The following article is part of a new series presented by Jewish Content Network which will discuss business ideas, marketing advice, and feature new business technologies,...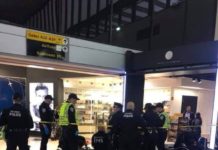 Last week, United Hatzalah volunteer EMT and Regional Coordinator Gavy Friedson was traveling through Newark Airport on his way back from a speaking engagement...
The Indianapolis Zoo says a lion has died in a fight with another lion. The zoo said Friday that an adult female, Zuri, attacked 10-year-old...