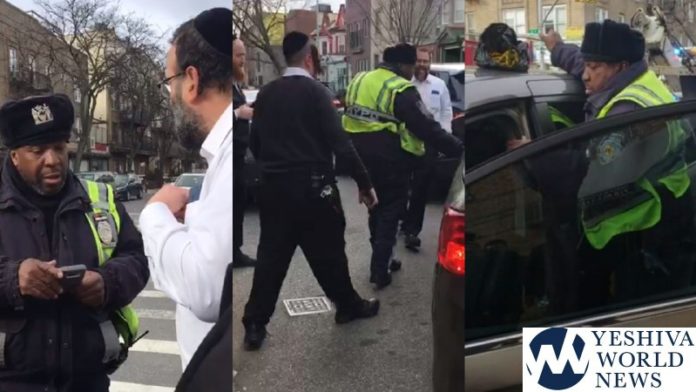 The attached footage went viral on social media on Thursday night.
According to information available to YWN, this incident occurred on Thursday morning at around 10:00AM at 15th Avenue and 44th Street.
The NYPD Traffic agent had written a summons to a vehicle allegedly parked illegally, and then proceeded to unlock the door to the vehicle, put it in neutral, and began to hook up the tow truck to tow the vehicle.
A man – possibly the vehicle's owner – showed up, and encouraged by bystanders, is seen jumping into the vehicle and managing to speed off.
It should be noted, that multiple sources tell YWN that the vehicle was parked legally – although it seems that he was technically too close to a fire hydrant, and the agent had the legal right to tow the vehicle.
For reasons unknown, the bystanders proceeded to engage the Agent, degrading the officer.
"You are working in the wrong precinct, you should go to work in Harlem, where they will kill him over there", one man is heard saying.
"This will all be on YouTube", another was heard saying.
"Oh this is so great….he just worked for a half an hour to tow the car, and he lost it".
"What a loser, what a loser".
One Jewish man is heard telling the agent that he had no right to use foul language to the bystanders – reportedly used after the driver sped off. The man tells the agent "this is my place, this is not your place", likely referring to the Boro Park community.
A spokesperson for the NYPD said the attack against the traffic agent was unacceptable.
"We will not tolerate our traffic agents being subject to abuse in any form, not the least of which is the ugly example we see in this video," NYPD spokesman Lt. John Grimpel said.
"NYPD Traffic Enforcement Agents responded to the area at the request of community members and local representatives who were concerned about illegal parking conditions that impede the flow of traffic, including emergency vehicles. This is disgusting behavior against an agent who was doing his job to keep New Yorkers safe while exhibiting restraint and professionalism."
A complaint has been filed with the 66th Precinct, and police said they have information belonging to the vehicle's owner. He is expected to be charged with obstruction of governmental administration because he got in the way of a traffic agent doing his job.
The Boro Park community @misaskim @cb12 @BPShomrim & other community leaders would like to apologize to the @NYPDnews @NYPDTransport tow truck driver for the incident that took place on Thursday. We thank you for the job that you do everyday & hope we can someday make up for it.

— Misaskim (@misaskim) January 13, 2019
(YWN World Headquarters – NYC)