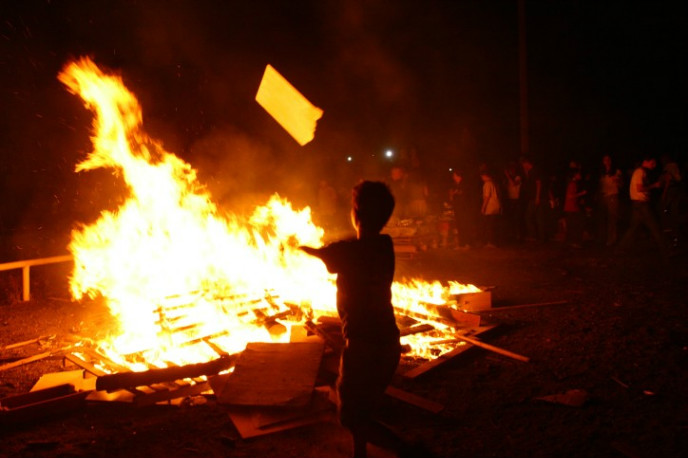 Less than two hours into the holiday of Lag B'Omer and firefighters from around the region have been called to a massive fire that broke out in the Ramot Forest northwest of Jerusalem.
The catalyst for the blaze was a bonfire that was lit outside of the specified and permitted area. In spite of the many warnings issued by the Fire Department and the City of Jerusalem not to light bonfires outside of specified areas or in close proximity to forested areas, houses, thorns, or apartment buildings, dozens of such fires were lit across the city, according to a spokesperson from the Fire Department.
One of these fires ignited a large fire that has begun rapidly spreading towards the Ramot Forest. Residents of the area have been evacuated from the immediate vicinity of the flames and firefighters have begun combatting the blaze in an attempt to control it and put it out.
***NOTE: YWN is covering Lag B'omer festivities in Meron and around the globe and posting pictures and videos in live time on our WhatsApp status. Click this link – or send a message to 1-888-4-YW-NEWS (888-499-6397) – to see our status posts****
Mevaseret, a town not too far away from the Ramot Forest, issued a warning to all residents prohibiting the lighting of any bonfires anywhere in the city or its outskirts. The municipality attached a fine of 495 NIS to anyone caught lighting a bonfire or attending one.
United Hatzolah has around 500 hundred volunteers in Meron – support their life-saving work! by clicking here!
Earlier, a large brush fire was burning in the Mevasseret Tzion area of the Jerusalem Corridor.
The fire began on Wednesday afternoon, with an initial response of five fire trucks from the Beit Shemesh station. The Motza exit on the highway in the westward direction was closed and police were rerouting motorists.
According to the scene fire commander, Fire Department Superintendent Zechariah Refael, the fire is significant in size are now efforts are concentrating on controlling it, to prevent it from spreading. Firefighting planes have already been called in to assist in containing and extinguishing the fire.
Weather conditions are unfortunately ideal for the fire to spread easily, as it has been hot and dry in recent days, with temperatures in Jerusalem on Wednesday afternoon reaching 34C (94F). This has the fire department most concerned as Thursday's forecast, Lag B'Omer, calls for 'sharav' heat-wave conditions, with temperatures possibly reaching the high 90sF.
[WATCH MERON LIVE HERE: Lag B'Omer at Kever Rashbi; Schedule of Events – LIVE UPDATES]
(YWN Israel Desk – Jerusalem)