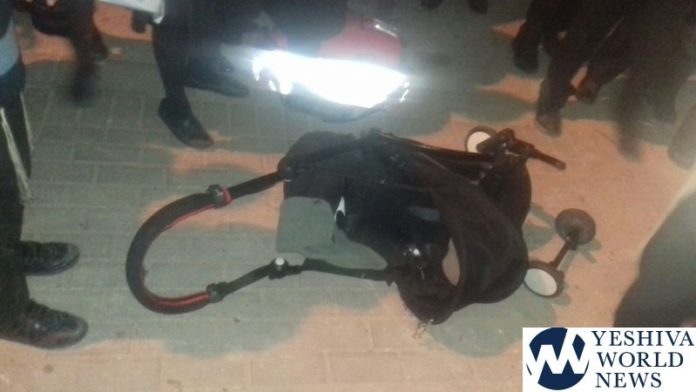 On Tuesday evening, at a simcha hall in Beit Shemesh, a group of participants lifted up a table as part of the celebration. Unfortunately, the table fell and landed on an infant whose parents were guests the festivities.
United Hatzalah EMS volunteers from the Beit Shemesh Chapter treated the infant at the scene and relayed that his condition was moderate to serious. Two brothers, Shlomo and Eliezer Brandmark were among the United Hatzalah volunteers who responded to the incident and treated the infant. "After receiving the call from United Hatzalah dispatch alerting us to the emergency, we raced over to the simcha hall and were told by witnesses to the incident that the infant sustained a serious head injury when a table fell on him. We began to treat the infant until the ambulance arrived. We transferred the baby to the intensive care ambulance during treatment, and he was taken to Hadassah Ein Kerem hospital in Jerusalem."
Zaki Heller, the Magen David Adom (MDA) Spokesperson said: "At 9:48 P.M. MDA received a call regarding an infant who had been injured by an object that fell on his head at an event hall in Beit Shemesh. MDA EMTs and paramedics treated and transported the infant to Hadassah Ein Kerem Hospital. The infant, only a few weeks old, suffered a major head injury and is in serious condition."
The incident is currently under investigation.
Please say Tehillim for Shmuel ben Chana.
(YWN Israel Desk – Jerusalem)