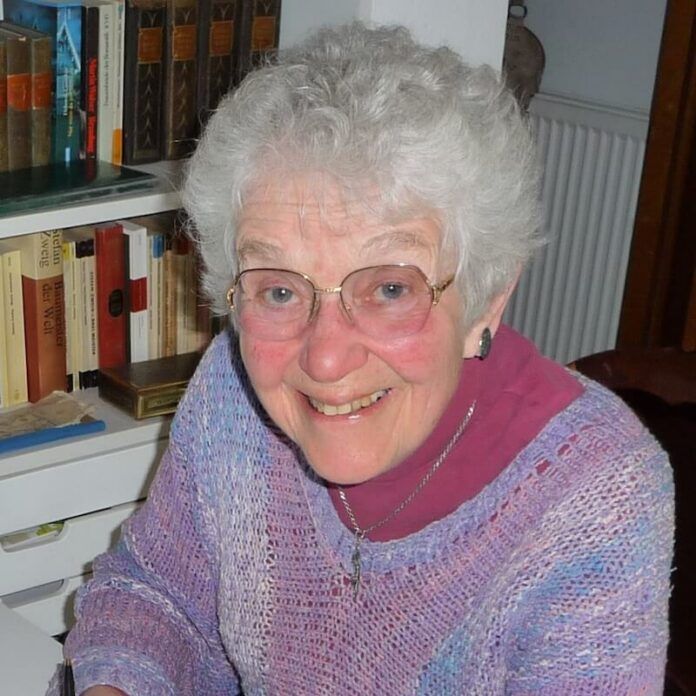 Laureen Nussbaum, 92, was born in the same city as her childhood friend, Anne Frank, in Frankfurt, Germany, and both girls moved with their families to the same neighborhood in Amsterdam as young children. But luckily for Nussbaum, in 1942, her life began following a different path than that of Frank.
The Germans invaded Holland in 1940 and began deporting Jews in 1942. That summer, Anne Frank and her family went into hiding, which is when Frank wrote her diary, which later became world-famous. But Nussbaum, who was born as Hannelore Klein, continued to live openly with her family.
The person who made that possible was Hans Calmeyer, a German lawyer who saved Nussbaum's family and thousands of other Jewish families. Nussbaum, who wants to spread the word about Calmeyer's heroism, recently wrote her memoir, "Shedding Our Stars: A Story of Hans Calmeyer and How He Saved Thousands of Families Like Mine" (written with Karen Kirtley).
"So much has been made out of Schindler, who saved 1,200 Jews, and people really empathize with him and made him a hero," Nussbaum told the Jewish Telegraphic Agency. "And I felt that Hans Calmeyer, who has saved more people, is too unknown in the world. There are books about him in Dutch and German, but nothing in English, except for a citation from Yad Vashem when he was declared a Righteous Among the Nations in 1992 — but that's just four lines. And I thought it was time that people knew about him."
Oskar Schindler was a German factory owner who saved 1,200 Jews. His name became famous through Steven Speilberg's movie "Schlinder's List."
The little-known Calmeyer saved far more Jews than Schindler by using his status as a German lawyer to adjudicate cases for Jews whose Jewish origins were in doubt. He managed to convince his superiors that those whose grandparents could not be proven as Jewish should be able to declare themselves as non-Jews.
"In two-thirds of the cases, he decided in favor of the petitioner, knowing that he was being cheated," Nussbaum told JTA, which meant that whenever possible Calmeyer found a way for the petitioners to claim the status of non-Jews. "He allowed himself to be cheated."
Nussbaum's family were legally declared non-Jews with the help of Calmeyer, which meant they were able to remove their yellow stars and live openly – avoiding deportation to a Nazi concentration camp and almost certain deaths.
"It wasn't true, my mother was half-Jewish," Nussbaum said. "But once he had settled it, we were foolproof."
After the war was over, Nussbaum married Rudi Nussbaum and Anne's father Otto, was the best man at her wedding.
Otto Frank spent months after the war hoping his daughters Anne and Margot, who had been deported to Bergen Belsen, were still alive. He and Nussbaum's husband, Rudi, who searching for his mother, would go together to the train station every day with pictures of their loved ones.
"They showed those pictures and asked everyone, 'Did you by chance know this woman? Did you know by chance know these girls?'" Nussbaum told the JTA. "And that's how they bonded."
Unfortunately, neither of them succeeded in locating their relatives. Only 5,200 of the 100,000 Dutch Jews who were deported from the Netherlands survived.
In 1954, the Nussbaums moved to the United States, eventually settling in Portland, Oregon. Nussbaum, who is a German language and literature scholar, earned her doctorate from the University of Washington and became part of the faculty at Portland State University.
Nussbaum's adult life was still very much rooted in her childhood experiences. Her areas of expertise in her career as a professor included child trauma in Nazi Germany, Anne Frank and German exiled writers in the Netherlands
(YWN Israel Desk – Jerusalem)