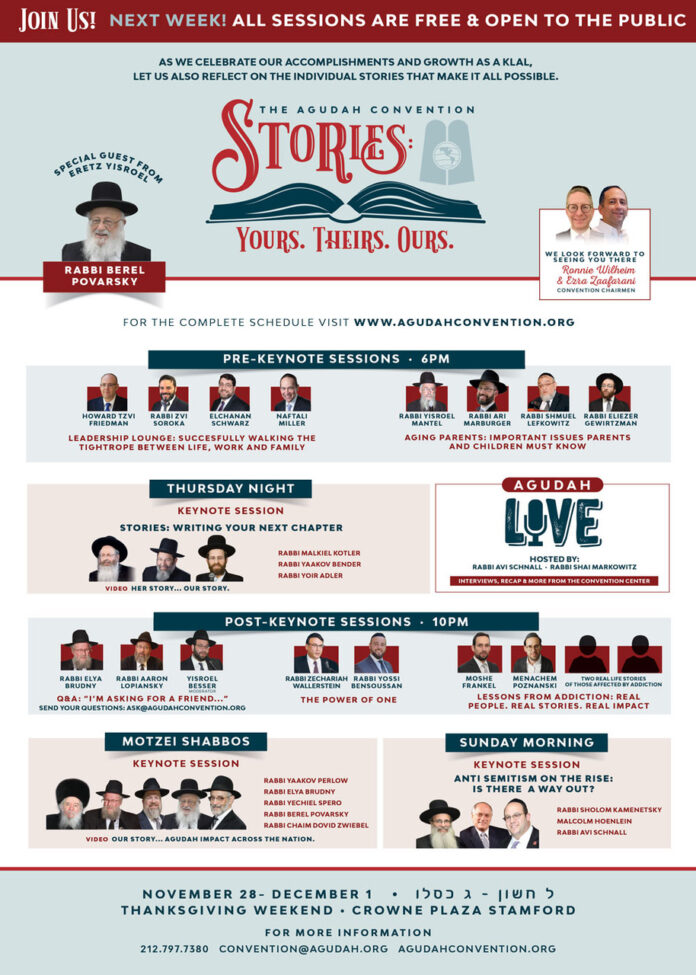 The stories of our lives are different. They change every day. But we have commonalities – threads that intertwine between people, communities, and generations.
This year's Agudah Convention, to be held lamed Cheshvan through gimmel Kisleiv, November 28th through December 1st, at the Crowne Plaza Stamford, will give people a chance to share those stories, telling and listening to the stories that guide our existence as am Yisroel.
Although there are no longer any hotel rooms left, the convention organizers stress that there are still many ways for people to participate. Convention Co-Chairman Ronnie Wilheim says, "The sessions carry no charge and are open to the public. Drive in to Stamford, or take the train, and you can enjoy the convention in person!"
There are also options for those whose schedules or locations don't allow them to attend in person. "If you go to www.agudahconvention.com," says Convention Co-Chairman Ezra Zaafarani, "you can watch the livestream of the sessions as they happen. You can also call in to Torah Anytime's phone line to listen over the phone. We want as many people to participate in the Convention as possibly can, to benefit from the words of our Rabbanim and leaders."
The stories told at this year's convention will span the gamut of the Orthodox Jewish experience in the United States. Although Sunday's keynote sessions focuses on what some might call the "big" story, anti-Semitism, the other keynotes will elaborate on each person focusing on their own story, as well as the bigger story of the state of Klal Yisroel in America.
But aside from those, the sessions will focus on the stories that impact us every day. Teens. Addiction. Aging parents. Ki heim chayeinu – the Torah's impact on our life. Stories of Gedolim. Stories of advocacy from Agudah's government affairs team.
"There's something for everyone at this year's convention," says Rabbi Labish Becker, Agudah's Executive Director. "Personally, I can't wait for it, and I'm sure that all who attend – whether in person or through the livestream or phone – will benefit too."