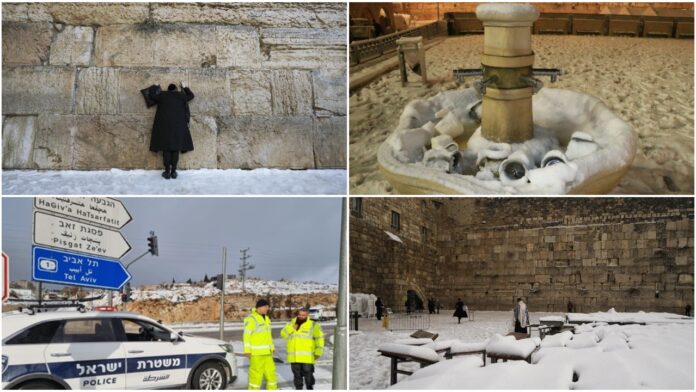 Many Israeli children's dreams were fulfilled when they woke up to a blanket of white on Thursday morning after the snow, which began falling in the city at about 7:30 p.m. on Wednesday evening, continued most of the night, accumulating to about 20 centimeters (8 inches) by Thursday morning.
Of course, schools had already been closed since 3 p.m. on Wednesday as the city moved into high gear preparing for the snow, deploying 250 snow plows. Jerusalem municipality workers toiled throughout the night clearing roads, spreading almost 150 tons of salt.
Below is the Jerusalem Municipality's control room on Wednesday night:
Public transportation in the city stopped on Wednesday evening and several main roads to Jerusalem were partially closed but were reopened by early afternoon on Thursday.
Snow also fell in Gush Etzion, including in the city of Beitar Illit, and in many areas in Binyamin and the Shomron.
On Thursday, the snow turned into rain in Jerusalem and most areas of the country but temperatures remained unseasonably cold. The storm is expected to pass by Motzei Shabbos.
DRONE FOOTGE VIA Elisha Baruch B.
— 𝐀𝐥𝐨𝐧 𝐄𝐥𝐢𝐚𝐬 (@alloni80) January 27, 2022
זריזין מקדימין למצוות היום: ח"כ מיכאל מלכיאלי כבר בנה עם ילדיו הבוקר בובת שלג מכובדת כראוי וכיאה. pic.twitter.com/Zhcd9OgQzp

— ישראל כהן (@Israelcohen911) January 27, 2022
שלג על עירי pic.twitter.com/L3Q13iQVKk

— אלעזר ובר ▪️elazar webber (@elazar_webber) January 26, 2022
גם בשלג – ההערצה לגדולי ישראל לא נמסה לרגע. האקרובטיקאי שמעון אלבז יצר בובת שלג בדמותו של מרן הראשון לציון זכר צדיק לברכה. pic.twitter.com/Cz4cWN2aqv

— אריה ארליך A. Erlich (@AryeErlich) January 27, 2022
מעבר לחלון: הרבה שלג, הרבה לבן ומפלסה אחת pic.twitter.com/WZNpEoiBc0

— אבי רבינא Avi Ravina (@AviRabina) January 27, 2022
בוקר לבן מירושלים!
לאורך כל היום נקיים מסיבת שלג בגן סאקר עם די ג׳י, מזכרות, שתיה חמה והמון מצב רוח. אני אהיה שם, ואתם?
בבקשה, אל תצאו עם מכוניות, תשמרו על עצמכם ונעבור את החג הזה בכיף.
ו..זה מה שראיתי הבוקר מהבית, צלמו גם אתם מהחלון ושרשרו!
יום טוב ובטוח⛄️ pic.twitter.com/WD2MZeG31G

— משה ליאון (@MosheLion) January 27, 2022
שלג על עירי ❄️ pic.twitter.com/lUBlvo2wRr

— ישכר זלמנוביץ Isachr Zalmanovitz (@zalmanovitz) January 26, 2022
סוף סוף: שלג רציני על עירי. נרגש בשביל הילדים שיקומו לבוקר צחור. pic.twitter.com/94ydGCgm78

— אריה ארליך A. Erlich (@AryeErlich) January 26, 2022
(YWN Israel Desk – Jerusalem)