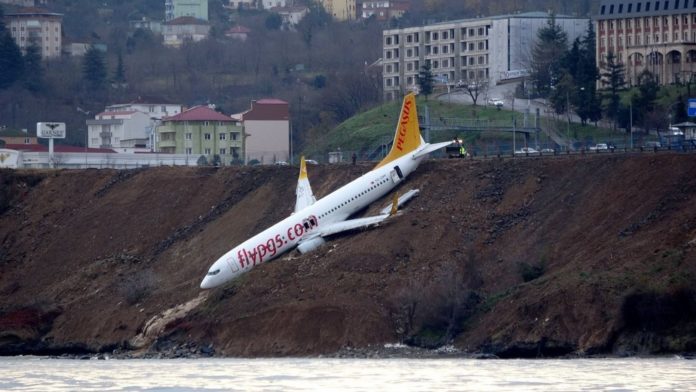 A passenger jet skidded off the runway at a Turkish airport Saturday and plunged down the side of the cliff just a few feet away from the Black Sea, sparking mass panic among travelers and crewmembers.
The Pegasus Airlines Boeing 737-800 aircraft carrying 168 passengers and crewmembers had a "runway excursion incident" while landing at the Trabzon Airport, the airline said in a statement on Sunday. Photos showed the aircraft on a muddy slope with its nose dangerously close to the Black Sea coast.
"All 162 passengers, 2 pilots and 4 cabin crew have been disembarked safely from the aircraft. There has been no loss of life or injury to anyone on-board," the airline said.
Passengers on the jet told state-run news agency Anadolu there was "panic" and "screaming" when the aircraft careened off the runway.
"We tilted to the side, the front was down while the plane's rear was up. There was panic; people shouting, screaming," passenger Fatma Gordu said, according to Sky News.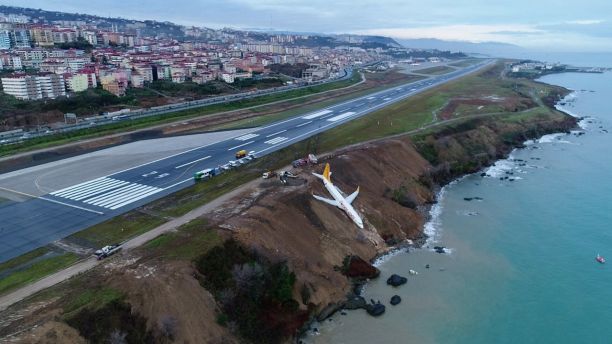 Passenger Yuksel Gordu said that words weren't enough to describe their fear.
"It's a miracle we escaped. We could have burned, exploded, flown into the sea," Gordu said. "Thank God for this. I feel like I'm going crazy when I think about it."
The airport shut down for hours after the incident, but reopened by Sunday. Trabzon Governor Yucel Yavuz said an investigation is being conducted.
Dün akşam Trabzon'da pistten çıkan TC-CPF kuyruk tescilli uçağın tahliyesine dair video

— HavaSosyalMedya 🛫 (@HavaSosyalMedya) January 14, 2018
"We've taken all necessary measures," Yavuz told Turkish media. "We will re-open the airport to airport traffic as soon as possible."
Pegasus Airlines also did not provide further details on what caused the jet to skid off the runway.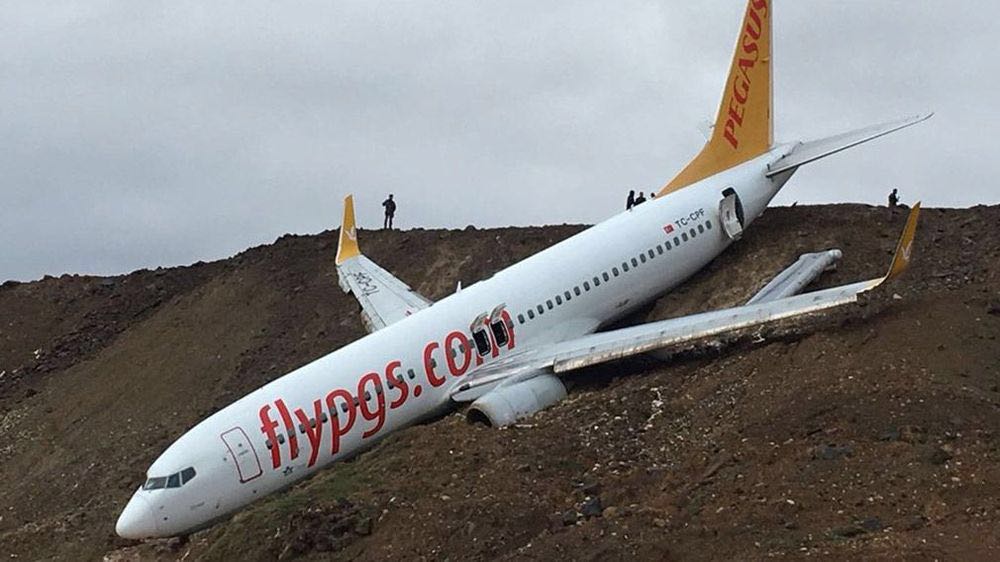 (AP)