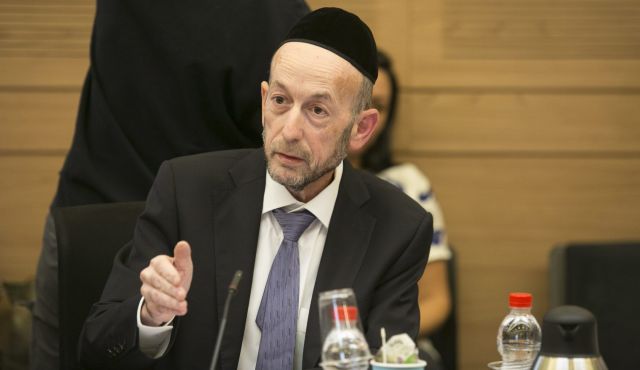 MK Uri Maklev met with Yahadut Hatorah activists in Bat Yam as Election Day nears. He met with the city's mayor, who asked for his assistance in preventing the union between Tel Aviv and Bat Yam. Maklev visited city schools and was impressed with the achievements of the students.
Maklev began the campaign visit in the office of the Mayor of Bat Yam, Mr. Tzvika Brot, and the two discussed some of the city's needs.
Maklev explained that the momentum of the Torah community in the city is in the minds of representatives of Degel Hatorah and necessity of the city, as the mayor promised to assist the Torah tzibur as much as possible in the city.
In the background of the talk about the unification of the city of Tel Aviv with the city of Bat Yam, the mayor expressed his desire to not connect with the city of Tel Aviv. The mayor asked for help from Rabbi Maklev against the desire of the parties to unite the cities. Bat Yam is a traditional city and the Mayor says he has no desire to bring the culture of Tel Aviv to the city. He explained Bat Yam does not want Tel Aviv's money or culture.
He then went on a tour of the city together with the local party activists. At the end of the tour, they sat down to a meeting to see how the majority of the public could be mobilized for the Yahadut Hatorah list to assist ahead of Election Day.
Election Day for 21st Knesset is scheduled for Tuesday, April 9, 2019.
(YWN Israel Desk – Jerusalem)