The Israeli air force on Thursday dropped leaflets across the Gaza Strip, warning residents to stay far from the Israeli border during a mass protest expected on Friday.
Over 115 Palestinians have been killed by Israeli fire during near-weekly demonstrations at the border.
The leaflet warns that approaching the border fence is liable to be "severely detrimental", and that the IDF will not allow "damage to the fence, or attempts to carry out terror attacks against Israeli civilians and security forces."
"For your own benefit, it is better that you not participate in the violent riots at the fence, not attempt to breach it, and not permit Hamas to turn you into a tool to advance its narrow agenda," the army said.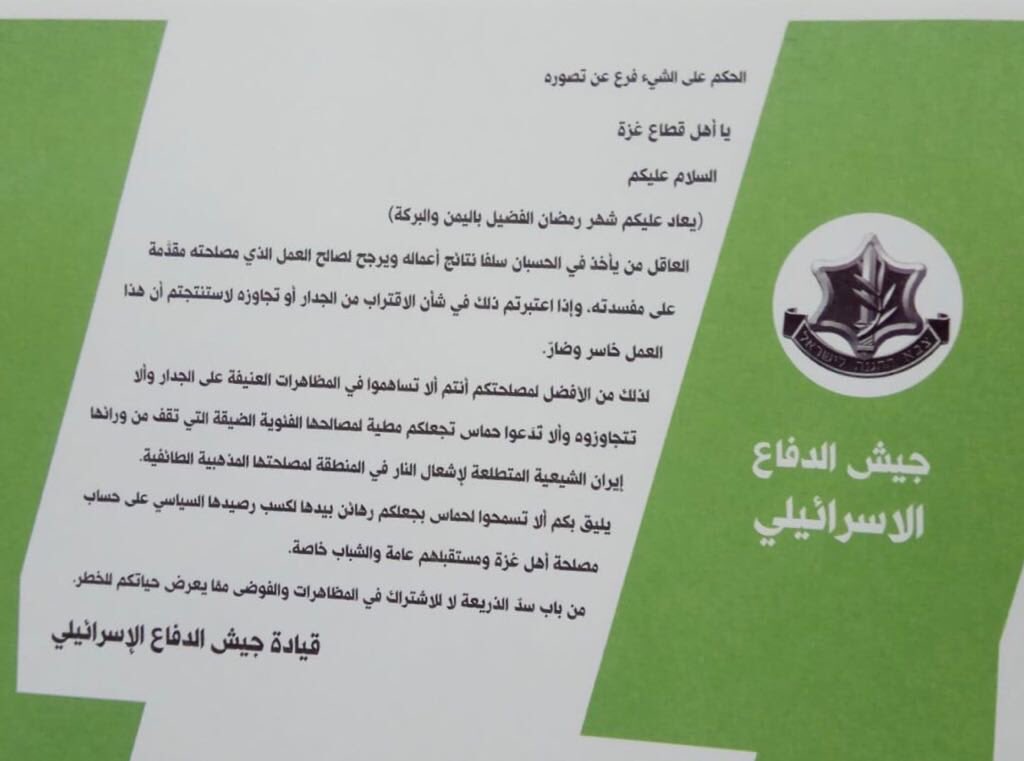 Tens of thousands of Palestinians have participated in the protests. Friday's demonstrations are meant to coincide with "Jerusalem Day," a day of protest against Israeli control of the city of Jerusalem.
Jerusalem day was established in 1979 in Iran to coincide with the last Friday of Ramadan. This year, the protests take on added significance after the U.S. recognition of Jerusalem as Israel's capital.
In recent weeks, Israel has struggled with a new phenomenon of flaming kites flown over the border into Israel. The kites have caused wildfires and extensive damage to Israeli agricultural land nearby.
The Israeli military said it has adopted the use of drones to intercept some 500 kites and flaming balloons.
Col. Nadav Livne, commander of the unit operating the drones, told reporters Thursday that the drones now have a "more than 90 percent" success rate in taking down the kites.
"But it's not 100 percent protection," he said.
(YWN Israel Desk – Jerusalem)