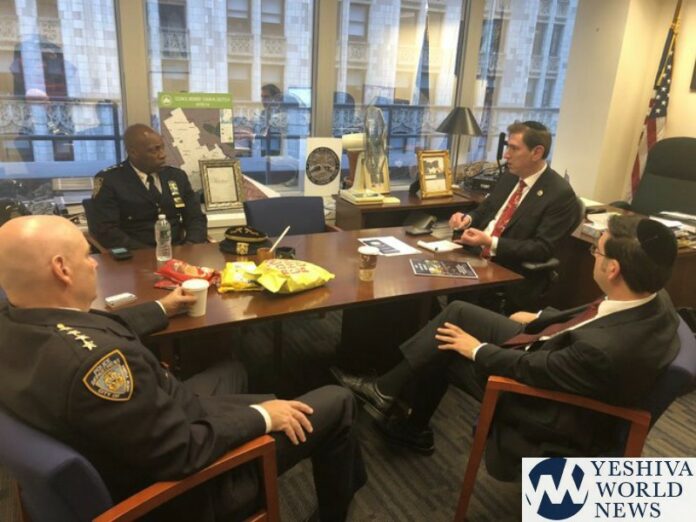 The following is an open letter from Councilman Deutsch sent to the community on Erev Yom Kippur:
Dear neighbors,
The Jewish holiday of Yom Kippur begins tonight at sunset, and I am writing to wish all those who observe an uplifting and meaningful holiday and an easy fast.
I want to address serious concerns that Jewish communities across New York City have with regard to a lack of security during the holidays and Shabbos (Sabbath).
With anti-Semitic hate crimes up by 53% this year, Jewish New Yorkers are understandably on edge. There have been a plethora of physical assaults in Brooklyn during the last several months, including two on Rosh Hashanah, which occurred last week. Worldwide, there have been several deadly attacks at houses of worship, including in Pittsburgh, Poway, New Zealand, Sri Lanka, and others.
We've asked for heightened security at houses of worship and on our streets, and I understand that many, including myself, found it to be lacking on Rosh Hashanah.
Update: this morning, @KalmanYeger and I met with @NYPDChiefofDept & @NYPDChiefPatrol. We had a productive conversation, & I'm looking forward to significantly enhanced security during Yom Kippur.

Thank you @NYCMayor, @NYPDONeill, @Pinnyringel for your attention to this matter. https://t.co/82CkzxlVNa pic.twitter.com/ZJV4wmkGYI

— Councilman Deutsch (@ChaimDeutsch) October 8, 2019
I want you to understand that, as Chairman of the Jewish Caucus and the representative of an extremely diverse district, I consider the safety of ALL New Yorkers to be my absolute top priority.
Yesterday, I met with Jewish community leaders from across the five boroughs in a private meeting, to allow for an open and honest discussion about the security needs of each neighborhood.
This morning, along with my colleague Councilman Kalman Yeger, I met with NYPD Chief of Department Terrence Monahan, and Chief of Patrol Rodney Harrison. We expressed the fear in the Jewish community right now, and asked that they stepped up their efforts to ensure that not only do we FEEL safe, but that we actually ARE safe.
I feel optimistic that they heard our concerns, and they have already taken steps to improve, including bringing police officers in on overtime tonight and tomorrow, to patrol the streets around our synagogues.
Please be vigilant during Yom Kippur, and look out for an increased NYPD presence. I urge you to contact me after the holiday and let me know how you think it went with regards to security.
I want to thank my colleague Councilman Kalman Yeger for his continued partnership on this matter, and Pinny Ringel from Mayor de Blasio's community affairs unit for his efforts and accessibility.
Please don't hesitate to contact me with any questions or concerns.
Gmar Chasima Tova – may you be inscribed for good!
(YWN World Headquarters – NYC)