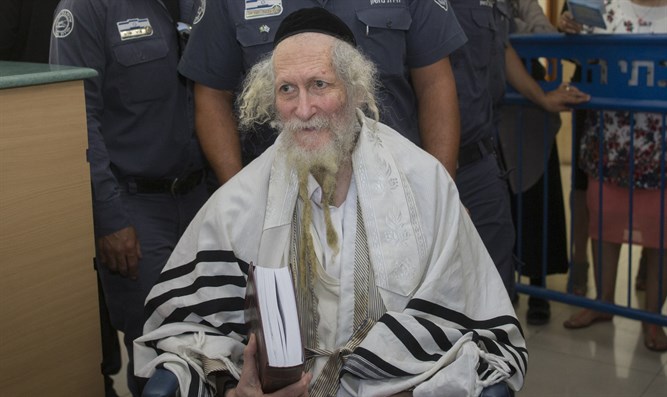 Followers of Rabbi Eliezer Berland attacked a 43-year-old man in Beit Shemesh on Sunday, after the man complained to them about their dangerous driving on local roads that endangered other drivers as well as pedestrians.
Berland was visiting the city when the incident occurred. The incident occurred just before 5:00 p.m. when a group of vehicles recklessly down Habakuk HaNavi Street in Ramat Beit Shemesh Gimmel. One resident alerted the police to the outrageous driving and told off one of the drivers who driving maniacally. In response, the resident was severely beaten.
According to another resident who witnessed the incident, the car stopped after the driver was told off and a number of suspects exited the vehicle. They began hitting and assailing the man who told off the driver. They hit him with their fists, a car jack, and a hammer. The witness reported this to the emergency medical teams that arrived to assist the beaten man.
According to BeChadrei Charedim, the assailants were students of Berland and police have taken a number of them into custody. Some of those in custody are as young as 14-years-old. They are being questioned by police in the station in Beit Shemesh.
The beaten man was listed as being in light-to-moderate condition and was taken to the hospital for further treatment and care. He suffered contusions on his entire body.
Followers of the Berland Cult (Shuvu Banim) have been involved in many violent incidents. They have also been arrested for driving at excessive speeds in the Berland motorcade.
[HORRIFIC: Berland Cult Member Savagely Beats Famous Mispallel At Kever Shimon Hatzadik]
Rabbi Berland constantly engages in eradict behavior, such as smearing olive oil on children's faces, and spinning a dreidel during davening.
[INSANE FOOTAGE: Berland Motorcade Tracked By Police Chopper Travelling At 151 MPH Nearly Killing Many People]
Rabbi Berland was released from house arrest just before Rosh Hashana two years ago, the result of a conviction for assault. Berland pleaded guilty to his actions against multiple victims. he had first fled Israel and traveled from country to country, thus avoiding extradition to Israel, where a warrant for his arrest had been issued. He spent time in the United States, Italy, Switzerland, Morocco, Egypt, Zimbabwe, and Johannesburg before being arrested and extradited to Israel where he faced the law.
[Shocking Video Of Rabbi Berland Surfaces; Followers Defend It As 'Miraculous Healing Technique']
His followers claim that Berland willingly took upon himself this disgrace, suffering, and exile, "which spiritually protects the Jewish People from heavenly decrees of annihilation". It should be noted that audio footage was released where Berland was talking to his attorney about the details of one of his assaults.
Despite the charges and the guilty plea, he continues to be a celebrity-rabbi, as thousands of thousands of people flock to him.
(YWN Israel Desk – Jerusalem)