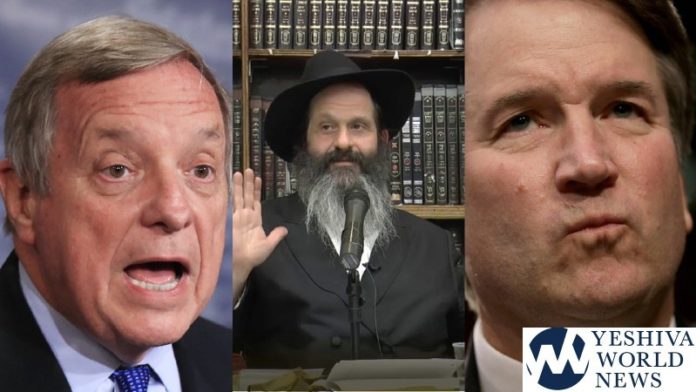 Millions of Americans are glued to the ongoing Senate hearings to confirm Judge Brett Kavanaugh to the Supreme Court. To the shock of many, Shalom Rubashkin and Agriprocessors were discussed on Wednesday.
The question came from Democratic Senator Dick Durbin from Illinois.
In his question, Durbin threw in a remark that Rubashkin's sentence had been commuted by President Trump. Clearly, this was a swipe at the president. But what Durbin didn't tell you was that the decision was supported by politicians from both sides of the aisle, including top Democrat Congresswoman Nancy Pelosi.
Here is the complete exchange:
.@SenatorDurbin: "Judge Kavanaugh, you bent over backwards to take the company's side against these workers." pic.twitter.com/0iCi2vlJU8

— Fox News (@FoxNews) September 5, 2018
The following background information about this exchange is via Heavy.com:
Judge Kavanaugh sided against workers in a 2008 case involving the right of employees to unionize. The company in question was a meatpacking business called Agriprocessors in Brooklyn, New York. Many of its workers were undocumented. When they voted to join the United Food and Commercial Workers, Agriprocessors appealed the decision to the National Labor Relations Board.
Agriprocessors argued that the votes of the undocumented workers did not count, due to their immigration status. The company pointed to the 1986 Immigration Reform and Control Act, which prohibits businesses from knowingly hiring illegal immigrants. But the Labor board unanimously sided with the workers, and told the company to begin bargaining with its employees. As the Huffington Post reported, two of the three members of the Labor board were Republicans.
Agriprocessors tried again by appealing to the D.C. Circuit Court. A panel, which included Kavanaugh, upheld the Labor board's decision 2-1. Kavanaugh wrote the dissent. He argued that "an illegal immigrant worker is not an "employee" under the NLRB for the simple reason that, ever since 1986, an illegal immigrant worker is not a lawful "employee" in the United States." 
To put the case into broader context: all workers are protected equally under the law in the United States. The Supreme Court ruled in a 1984 case, Sure-Tan Inc v. NLRB, that all workers, regardless of immigration status, have a right to safe and fair working conditions, and have a constitutional right to unionize. The majority opinion argued that by ruling this way, businesses would NOT have an extra incentive to hire illegal immigrants. "If an employer realizes that there will be no advantage under the NLRA in preferring illegal aliens to legal resident workers, any incentive to hire such illegal aliens is correspondingly lessened."
Thank you @senatordurbin for questioning Kavanaugh about his Agriprocessors dissent. Astonishingly, he didn't want to treat exploited undocumented workers as employees. As Reverend Dr. King said, workers rights are civil rights.

— NAACP (@NAACP) September 5, 2018
Kavanaugh just said he was proud of his decision in which he wrote that the undocumented workers at the Agriprocessors plant who were facing horrible working conditions could not unionize despite SCOTUS precedent

— Ben Rosenbach (@Rosenbach_Ben) September 5, 2018
At 1:14 Senator Durbin asks Kavanaugh about Agriprocessors decision, how long until a Jewish newspaper comes out with an article?

— Eric Kaplan (@ericlkaplan) September 5, 2018
Senator Dick Durbin spent the duration of his time with Judge Brett Kavanaugh asking questions that pertain to the Rights of Immigrants.

Not a single question about helping citizens of the United States.

Democrats no longer hide their Globalist Agenda. https://t.co/xkE0ENkg6W

— R. P. (@RPinDenverCo) September 5, 2018
Sen Durban's derogatory statements at the senate confirmation hearings regarding Sholom Rubashkin and Agriprocessors were disgusting

— (((Chaim Israel))) (@ChaimIsrael1) September 5, 2018