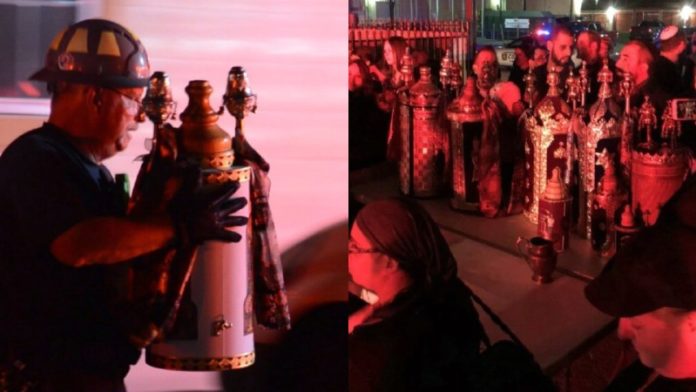 Bichasdei Hashem, firefighters managed to rescue all of nearly a dozen Sefrei Torah from a fire that broke out at a Shul in Southwest Houston, Wednesday night.
Rabbi Avraham Yaghobian told the media that the fire broke out at around 9:00PM inside the Sephardic Torah Vachesed Shul on South Braeswood Boulevard near Hillcroft Avenue. He says a group of around 30 people were inside the building learning when the fire started.
Some of the congregants heard movement at around 9:00PM, and moments later, deputies who happened to be passing by the Shul burst through the doors and ordered everyone out.
"One of our congregants screamed, 'Get out, it's a fire! Everyone get out!'" said Rabbi Yaghobian.
AN EMERGENCY FUND HAS BEEN LAUNCHED TO ASSIST THE SHUL REBUILD – CLICK HERE
Initially, some congregants tried to put the fire out themselves for fear of the Sifrei Torah being damaged, Rabbi Yaghobian told Eyewitness News. Several attempted to run back into the building to rescue the Sifrei Torah, but firefighters prevented them from doing so and instead went back themselves to bring out them out.
Dramatic footage shows the firefighters carrying out the Sifrei Torah – which were all saved.
"I really want to thank the firefighters and police for their bravery, their sensitivity and understanding," Rabbi Yaghobian said. "We were willing to jump in there, even if some of us were arrested, just to walk in and take those things (Sifrei Torah). We would take whatever damage to our bodies. We didn't want our holy articles being hurt. The firefighters saw how important it was. They were caring."
One Sefer Torah did sustain minor water damage. But the rest of them were in perfect condition.
No one was injured in the blaze, which is being investigated as arson.
The fire appears to have started on the back side of the building, according to Houston Fire Department Chief Herman Gonzales. It then spread up into the attic and onto the roof.
Nearly 300 families are member at the Shul.
AN EMERGENCY FUND HAS BEEN LAUNCHED TO ASSIST THE SHUL REBUILD – CLICK HERE
"Our scrolls are safe! Our scrolls live!" FF saved all 11 Torah across from burning synagogue. Investigators are still trying to figure out how the fire started. #abc13 https://t.co/VJUnHtYR4J pic.twitter.com/VluwypYWi4

— Courtney Fischer (@CourtneyABC13) November 29, 2018
Arson investigation underway after Houston synagogue catches fire with dozens of congregants inside.

Silver lining? Firefighters were able to save the temple's holy Torah scrolls from being burned #hounews

DETAILS: https://t.co/Dqiex4Mq76 pic.twitter.com/vaskEfCcKG

— Jay R. Jordan (@JayRJordan) November 29, 2018
These are Torah Scrolls. A rabbi tells me these are "the most important item in the Jewish faith." Houston firefighters saved them as this synagogue was burning. #KHOU11 pic.twitter.com/Y8cdzkvLEW

— Brett Buffington (@BrettKHOU) November 29, 2018
(Yossi Taub – YWN)