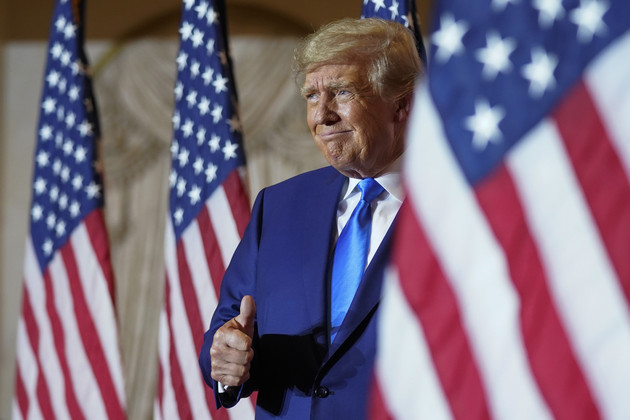 Former President Donald Trump is likely preparing to launch his third campaign for the White House on Tuesday, looking to move on from disappointing midterm defeats.
"Hopefully, tomorrow will turn out to be one of the most important days in the history of our Country!" Trump wrote on his social media network on Monday. An announcement was expected at 9 p.m. EST Tuesday from his club in Palm Beach.
Aides and allies had urged Trump to wait until after the midterms were over — and then until after a Dec. 6 Senate runoff election in Georgia — to announce his plans. But Trump, eager to return to the spotlight, is also hoping to stave off a long list of potential challengers, including Florida Gov. Ron DeSantis, who cruised to reelection last week and is now being urged by many in his party to run for president a well.
Trump has tried to blame Senate Republican leader Mitch McConnell for the GOP's performance — and McConnell allies have criticized Rick Scott, the Florida senator who heads the Senate Republicans' campaign committee.
However, Trump has received the brunt of criticism for elevating candidates in states like Pennsylvania and Arizona who were unappealing to general election voters because they embraced his lies about 2020 election or held hardline views on issues like abortion that were out of step with the mainstream.
(YWN World Headquarters – NYC)