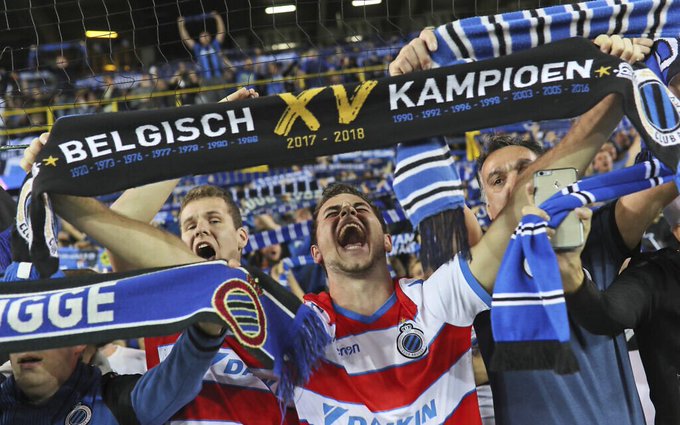 Belgian public prosecutors announced their decision on Friday that they will not take legal action against four soccer fans filmed singing a vicious anti-Semitic song: "My father was in the commandos/My mother was in the SS/Together they burned the Jews/Because the Jews burn best."
On August 26 of last year, the four identified fans were among a group of dozens of Brugge soccer fans who were filmed singing the song during a top match in the team's stadium to cheer Brugge's victory over the Brussels' Anderlecht team.
Since Club Brugge officials managed to identify four of the fans and Belgium's national soccer association banned them from all major Belgian stadiums for three years, the West Flanders' public prosecutor's office saw no need to penalize them further.
"We won't be bringing them to justice," public prosecutor Johan Lescrauwaet told news outlet De Standaard. "The stadium ban that Club Brugge handed them is, we think, a sufficient punishment."
Flemish nationalist MP Michael Freilich, the only Orthodox Jew in the Belgian parliament, slammed the "incomprehensible decision."
"This is a bad sign," Freilich told the news site HLN. "Anti-Semitic hate speech is an offense according to the criminal code. So it must be punished. Otherwise, why do we have laws?
"A sign is being given that racism and anti-Semitism are not a priority. This is the way you promote impunity."
Freilich isn't planning on letting the matter rest, saying that he will be turning to Belgian Justice Minister Koen Geens to take action. "He has the power to bring a case before a court. This must be assessed by a judge — and we will, of course, abide by that judgment."
Belgium recently gained its first Jewish (and first female) prime minister, the daughter of a Holocaust survivor, but it is unclear whether Freilich will solicit her assistance.
In the past few years, there have been several anti-Semitic incidents related to soccer in Europe. This includes an incident in January when Dutch police arrested five soccer fans for singing the same song about burning Jews as the Belgian fans – on Holocaust Remembrance Day. This particular song about burning Jews has caught on in recent years in the Netherlands and Belgium and has been sung at events unrelated to soccer or even Jews, such as a high school graduation party in Amsterdam, an Arutz Sheva report said.
Other soccer-related anti-Semitic incidents occurred in Italy in 2018 and England in 2016.
(YWN Israel Desk – Jerusalem)