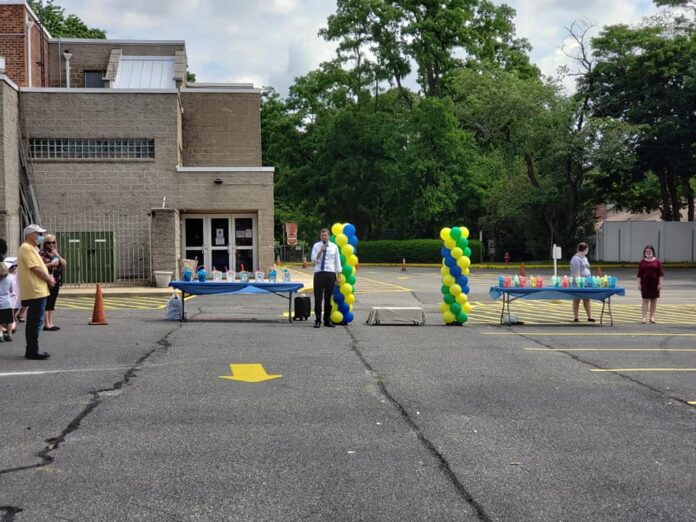 By Rabbi Yair Hoffman for 5tjt.com
It is considered one of the best neighborhoods in Long Island and personifies suburbia itself.  And almost overnight, it popped up.  There is a shul, an eiruv, and, yes, affordable housing.
The Rav of the shul is Rabbi Moshe Winter, a great grandson of Rabbi Irving Bunim, one of the pioneers of Torah Judaism in the United States and a close confidant of Rav Aharon Kotler zt"l.  As far as schooling goes,  due to New York State regulations, free bussing must be provided for children to schools up to 15 miles away. This provides a wonderful choice of yeshivos and Bais Yaakovs that are accessible to East Meadow residents in both Queens and the Five Towns.
One of teh first things that the original frum members did was to build an eruv, which covers just about any part of town where incoming residents would want to live.
The Eruv was built and is overseen by Rabbi Isaac Kresch, one of the leading Eruv experts in the country and a former member of Rav Leibel Rand's Kollel in Far Rockaway/Five Towns.  The Far Rockaway Eruv is also under his direction and he also consulted with Rav Shlomo Teitelbaum zt"l on the Kew Gardens Eruv.
There is a strong sense of community in East Meadow too and Rabbi Winter has started many programs and shiurim to engage the community. There is a  daily Kollel Boker, and a morning Gemara shiur before shachris. On Shabbos morning, there is a weekly community-wide kiddush, followed by a shiur for the women, given by Rabbi Winter on inyanim of Sefer Bereishis. Shabbos afternoons, the Rebbetzin, together with her teenaged daughters, runs Bnos groups. On Motzoei Shabbos, the shul is buzzing with the sounds of fathers and sons participating in an Avos Ubanim learning program, complete with pizza and prizes. With these new programs, the children are engaged and feel a strong sense of connection and community.
In addition, there are N'shei events throughout the year, affording the women the opportunity to get together, relax and enjoy inspiring times together.
The pricing of houses begins in the high 400,000's – but you do get a lot of bang for your buck.  There are many different styles and types of houses available.
 The lot sizes range from 6000 to 12,000 square feet. There is plenty of local convenient shopping (think the Roosevelt Field Mall),and it is not far from two Gourmet Glatt and Central Avenue of the Five Towns. Some stores also provide options for delivery. The crime rate is almost non-existent as well.
There is also a lot to do.  There is Eisenhower Park with a lake, Senator Speno Memorial Park with sports courts, the Eisenhower Blue Golf Course, and also an I.Fly Trapeze. There are plenty of recreational activities too.
The 5 largest ethnic groups in East Meadow, NY are White  67.5%, Asian 10.8%, Hispanic 6.5% and African American 4.83%.
While the community is mostly made up of young growth-oriented Torah families, there are families that are also retiring there too.  "I can sell my home for one million plus, and put away over a half million dollars in the bank and live next to a shul with a good eruv.  What could be better?" remarked one person looking into housing in East Meadow.
A significant number of East Meadow residents work in Manhattan and commute via LIRR.  It is about one hour and twenty minutes. If one drives or takes a cab it is 37 minutes.
East Meadow is now also the location of the Jewish Heritage Center as well, and is a hub of Kiruv and Torah classes.  Their Jewish Family Initiative provides classes for children and adults, and have also opened a new Jewish preschool called The Children's Learning Center which caters to families of all backgrounds. The JFI hosts family events, social events and Yom Tov events.  These programs and activities are run by Rabbi Avraham Portnoy and Rabbi Eliyahu Turk, the next generation of the founders of the Jewish Heritage Center in Kew Gardens Hills, New York – a well-known and successful outreach program.
It is an ideal place for frum families looking for affordability, and an opportunity to raise a family in a Torah Kehillah.
The author can be reached at [email protected]
[The Baal Tefillah in Rabbi Hoffman's outside minyan is moving to East Meadow.  This article is factually correct and was a gesture of appreciation]