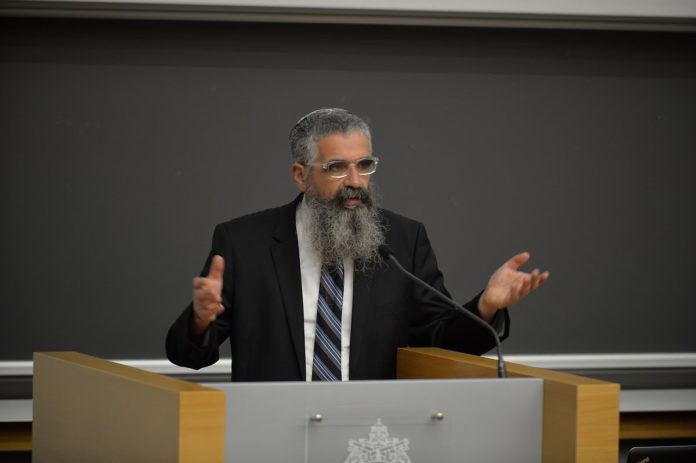 (By Rabbi Yair Hoffman for the Five Towns Jewish Times)
In a recent viral interview with Ynet News and carried by JTA , Rabbi Yuval Cherlow of the Tzohar organization is quoted as saying, "cloned meat produced from a pig shall not be defined as prohibited for consumption – including with milk."
In the interview, which was given prior to a Bar-Ilan University symposium entitled "Science and Halacha" featuring a talk by the Rabbi, he advocated rabbinic approval of cloned meat "so that people would not starve, to prevent pollution, and to avoid the suffering of animals."
Rabbi Cherlow further stated that when the "cell of a pig is used and its genetic material is utilized in the production of food, the cell in fact loses its original identity and therefore cannot be defined as forbidden for consumption," Rabbi Cherlow said. "It wouldn't even be meat, so you can consume it with dairy."
FORBIDDEN
It is this author's opinion that the Rabbi is in error concerning the halacha and that cloned meat produced from a pig would most certainly be forbidden according to all opinions. This is not to say that lab grown meat is a bad idea. Theoretically, if done from a kosher animal that was shechted properly – it could be kosher.
DAVAR HAMAAMID
The main reason why cloned meat produced from a pig would be considered forbidden from a halachic point of view is on account of the concept in Halacha known as, "Davar HaMaamid."  It is discussed in the Yore Deah section of Shulchan Aruch Siman 87.  Essentially, it is an item that establishes and supports the end food product being produced.  This is the same principle that forbids non-kosher cheese – which historically was once started with rennet – a non-kosher product.  Other products considered a Davar HaMaamid are emulsifiers, jelling agents, some enzymes, and solidifying agents.
In order to understand the underlying issue, we need to first explore how lab-produced meat works and then we need to explore the halacha.
HOW IT WORKS
Every form of cloning that this author has examined thus far involves the collection of animal cells that have a rapid rate of proliferation. These cells could be anything from embryonic stem cells, adult stem cells, myosatellite cells, myoblasts. Stem cells proliferate fastest but have not yet become a specific kind of cell.  They thus need to be directed as to how they will grow which creates some challenges.  On the other hand fully developed muscle cells are perfect for developing artificial meat, but they do not proliferate rapidly at all.  It seems that the cell of choice are myoblast cells because they do proliferate at a rapid enough speed and the technical challenges of directing how they will grow are manageable.
The next step that is necessary is a growth medium – that is the application of a protein that will foster tissue growth.  This needs to be done in a culture medium in a bio-reactor wherein the cells are supplied with the nutritional and energy requirements that are needed.
The third step that is required is a scaffold so that the meat can grow three dimensionally.  The scaffold should be edible so that the meat would not need to be harvested.  The scaffold should be able to stretch with the growing meat product in order to resemble the taste of regular meat.
Artificially developed meat also requires some sort of preservative such as sodium benzoate in order to protect the product from yeast and fungus.
CONSIDERED A DAVAR HAMAAMID
We are looking at step two here.  What is happening is that the introduction of the growth medium induces the cells to divide.  They will keep on dividing and produce more of the pig cells.  The cells themselves which will make use of the growth medium – are clearly to be considered a Davar HaMaamid.
The Talmud in Avodah Zara 29b cites a question posed by Rabbi Yishmoel to Rabbi Yehoshua as to why cheeses of gentiles were forbidden.  He answered that they establish them with calves of Avodah Zarah.  The Gemorah later (35a) explains that it is as if the prohibition is extant right there.  The Rambam's explanation of the concept states clearly that even in a thousand it is not batel.
On the other hand, the Gemorah in Chulin 116a seems to indicate that the prohibition is batel in shishim.
IS DAVAR HAMAAMID BATEL IN SHISHIM OR IN A FAR GREATER AMOUNT?
There is a debate among the Rishonim as to whether Davar HaMaamid is only forbidden in Shishim or whether it is even in a far greater amount.
The Ri Migash (cited by the Ran in Chullin 35a) and the Rambam (Maachalos Assuros 3:13 and 9:16) both hold that a Davar HaMaamid is not batel even in one thousand.  The Mordechai in Chulin 733 cites numerous opinion that it is not batel even in a thousand.
Tosfos (Chullin 99b), on the other hand, seem to rule that it is only forbidden to the extent of Shishim, but otherwise it would not be forbidden.
The Shulchan Aruch in Hilchos Pesach (442:5) rules like the Rambam as does the Shach in Yore Deah 87:30.
NORMAL MODE OF PRODUCTION
There is another very pertinent halachic debate regarding the parameters of when the laws of Bitul apply.  The Teshuvas HaRashba (Vol. III #214; cited by the Beis Yosef in Yore Deah Siman 134 toward the end "Chometz")  writes that the notion of something being batel b'shishim is only applicable when it happens by accident.  However, when it is the normal mode of production – the laws of Bittul do not apply.  In other words, we do not always say bitul.  Here it is being done on purpose and it is the normal mode of producing this lab grown pork.
The Nodah BiYehudah (Mahadura Tanina #52) disagrees and rules that we do not limit when the laws of Bitul apply – even if it is the normal mode of production.  What is normative halacha?
Rabbi Dovid Tzvi Hoffman, author of the Melamed L'ho'il writes that we can be lenient and rely upon the Noda BiYehuda only when we first settle in a country.  However, after an infrastructure has developed, we must be stringent in accordance with the ruling of the Rashba.  The Mishna Brurah in the laws of Chanukah (Siman 442) rules stringently in accordance with the Rashba, as does the Mogain Avrohom ibid.
CONCLUSION
There is no question that the principle of Davar Hamaamid would certainly forbid lab-grown pork.  Normative halacha rules that a Davar Hamaamid is not batel – even in a thousand.  Even according to the view that it is batel, the normative Psak halacha is to follow the ruling of the Rashba – when it is the regular mode of production.
Rabbi Cherlow should retract his statement. While it is noble to be concerned about feeding the masses of people to avoid starvation – that does not mean that we should be declaring that lab-produced pork is kosher.  We can create lab produced cow meat just as easily if we take cells from a just slaughtered cow (Mesachseches). There is also nothing preventing the development of lab grown pork for the gentile world. It is just that there is no need to declare it kosher.
The author can be reached at [email protected]
(YWN World Headquarters – NYC)