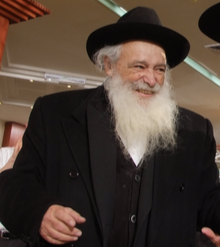 Rav Avigdor Nebenzahl of the Old City of Yerushalayim in engaged to be re-married at 83-year-old K"AH, Bechadrei Chareidim is reporting.
Rav Avigdor's first wife, Rebbitzen Shifra A"H was Nifteres three years ago in Adar 5776.
Rav Avigdor's Kallah is Mrs. Chaya Leah (Lily) Galandauer, a cousin (daughter of his aunt) who lives in England.
The Rav's Talmidim were overjoyed at the news and wish the couple Arichas Yomim and many happy years together.
(YWN Israel Desk – Jerusalem)