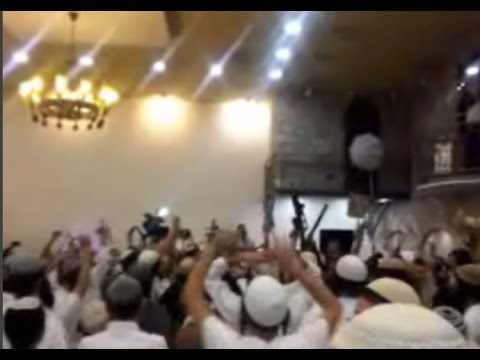 (VIDEO IN EXTENDED ARTICLE)
Attorney Itamar Ben-Givir is calling on the Jerusalem District prosecutor to drop charges in the case of the 'hate chasunah' in light of statements made by Police Commissioner Roni Alshich.
Following the comments of Police Commissioner Roni Alshich, Ben-Givir appealed to Jerusalem District Attorney Danny Whitman on Tuesday, 7 Marcheshvan, and called on him to order the cancellation of the indictment against the wedding participants.
During a session of the Knesset Audit Committee, Alshich said, "If someone shoots Rishon L'Tzion we will probably treat him as a criminal, but on the other hand, we will not want to imprison anyone who shoots at an Arab wedding. There are differences in the norms of obedience to the law among different populations."
Ben-Givir is representing one of the defendants in the case and in light of Alshich's statements, Ben-Givir turned to the prosecution in the case, stating, police are distinguishing between one community and another, between enforcing law in one and another, and therefore, his client is the subject of discrimination. He stated, "There is no doubt that this behavior justifies the cancelation of the indictment".
"It is inconceivable that in Israel 2018 the Jewish defendants are on trial, while hundreds of Arabs, according to the police commissioner, not only wave arms, but even shoot during the weddings, and they are not prosecuted and no legal proceedings have been taken against them only because he claims there are differences in the norms of obedience to the law among different populations," Ben-Givir stated.
Ben-Givir added "In the Simona Zaken case it was held that selective enforcement strongly contradicts the principle of equality before the law in the basic sense of this principle. Is destructive to the rule of law, is outrageous in terms of justice, it endangers the judicial system. The authority to file a criminal indictment is an important and difficult one. It can decide the fate of man. So too is the authority to enforce a law in another way, such as the power to detain a person or the authority to confiscate property. It must be exercised in a practical, egalitarian and reasonable manner."
The hate chasenah followed the Duma arson attack in which an Arab infant was burned to death as was his mother and brother, both dying of their wounds in hospital later on. It was alleged the attack was carried out by Jews in a so-called "price tag attack".
(YWN Israel Desk – Jerusalem)