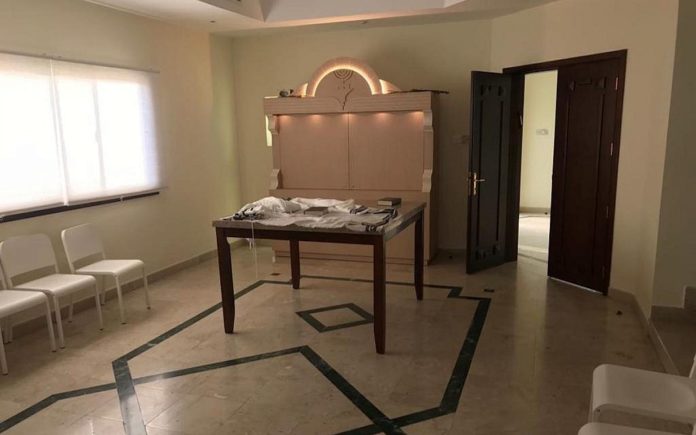 Three years ago the Jews who live in Dubai rented a small villa in a quiet neighborhood. Many of the Jews who live there work in the diamond trade and other similar professions. The building has no outer demarcations announcing it as a Jewish building. It contains a synagogue, a kosher kitchen and a few bedrooms for guests who come to visit and for community members who do not travel on Shabbos.
Eli Epstein, a Charedi Jew from New York who travels to Dubai for business told Bloomberg News that "The community has passed a large milestone since I began coming here some 30 years ago." In addition to being a traveling member of the community, Epstein donated a Sefer Torah to the Shul. "Back then, people told me that I needed to refrain from using my surname in the country because it sounded too Jewish."
According to Bloomberg analysts, the Shul in the shadows is a metaphor for how the Arab Gulf states feel about relations with the Jewish state currently. They see Iran as a bigger threat than the Jewish state and therefore have begun making inroad in relations with Israel.
Members and worshippers at the Shul asked visitors to not reveal the location or write about the activities of the community. Some of them even refuse to talk publicly about the very existence of the shul as the general opinion of the people in Dubai is very pro-Palestinian. Many people in the city do not look favorably on the warming of relations between the United Arab Emirates (UAE) and Israel and see it as a betrayal.
The congregation has no Rabbi and on Shabbos morning say a Mi Shebeirach prayer for the Prince of the UAE Sheikh Halifa Zaid and his deputy as well as for the ruler of Dubai, Sheikh Muhammad ben Rashid and all of its leaders. After davening is over, the gathered community enjoys a Shabbos meal complete with vegetarian cholent, as there is no kosher meat in Dubai.
"There is a new generation of Arabs and Jews who accept one another and include one another from a cultural perspective," a number of people in the community told Bloomberg reporters.
The synagogue has gotten encouragement from Jewish groups such as the Simon Wiesenthal Center, as well as the Dubai government and Mohamed Alabbar, chairman of Emaar Properties, builder of the 163-story Burj Khalifa tower, a 20-minute drive away. When Epstein donated the Torah scroll three years ago, he commissioned a velvet cover with an Arabic inscription embroidered in gold and dedicated it to Alabbar, whom he's known since they ran an aluminum venture together in the 1990s.
A secret synagogue in Dubai was kept secret for years. Here's why it's being revealed now pic.twitter.com/uMi3i2VVDM

— TicToc by Bloomberg (@tictoc) December 7, 2018
(YWN World Headquarters – NYC)