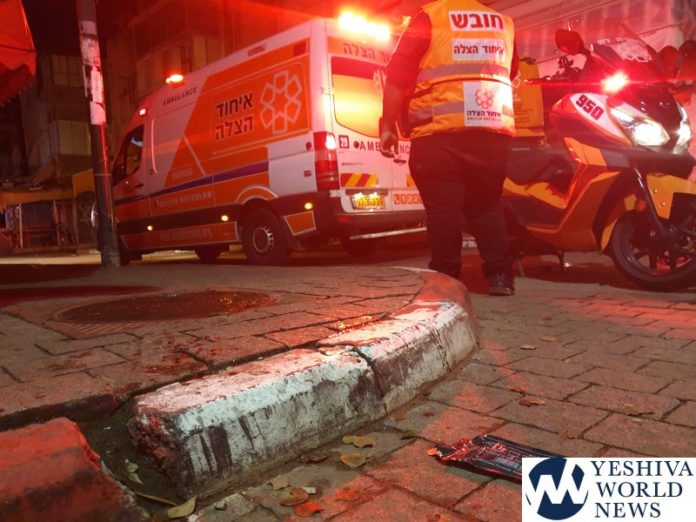 The Bayit Yehudi party announced on Motzei Shabbos that the talks with the National Union party have hit an impasse and the party is currently drafting plans to run by themselves for the upcoming elections.
A four-car motor vehicle accident took place on Highway 2 near the Shalom bridge on Motzei Shabbos. United Hatzalah volunteer EMS personnel who arrived at the scene treated a 6-month-old infant who was moderately wounded at the scene. Another six people were treated for minor injuries the organization's spokesperson said.
A 26-year-old man was moderately injured on Motzei Shabbos after he was stabbed during an act of violence that broke out on Jerusalem Boulevard in Kiryat Yam. Magen David Adom and United Hatzalah EMS personnel treated the man for his injuries before he was transported to Rambam hospital in Haifa with deep stab wounds in his lower body.
Two terrorists were killed on Friday evening just as Shabbos was coming in. The terrorists participated in the violent protests that take place along the Gaza border fence every week at the behest of Hamas. Both terrorists, threatened the lives of Israeli security personnel.
Some 9,000 people participated in the violent protests that included burning tires, throwing stones, molotov cocktails, improvised explosive devices as hand-grenades at Israeli soldiers. IDF personnel utilized crowd-dispersing ammunition in order to combat the crowd.
A 20-year-old was killed and another youngster was seriously injured after two motorcycles were involved in an accident with a car in Nazareth. Police are investigating the incident.
50,000 hikers and tourists ventured to national parks in Israel's northern Negev on Friday to participate in the Red South festival which highlights anemones that are in full bloom now. Among the more prominent locations visited were park Eshkol, Einot Tzukim, and the Arbel national park in the north.
(YWN Israel Desk – Jerusalem)