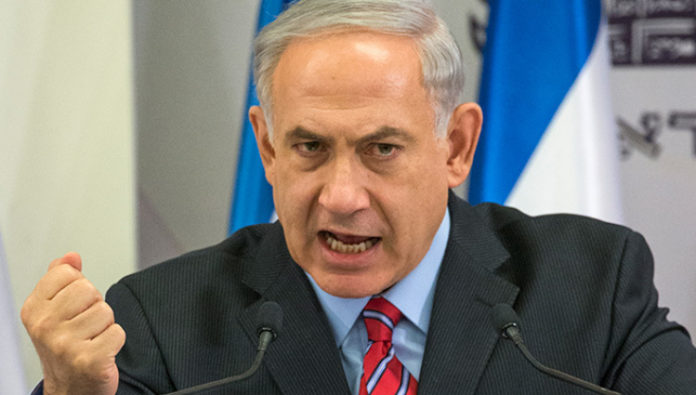 Prime Minister Benjamin Netanyahu tweeted that "Israel will not become a Halachic state," on Monday, rejecting remarks made by MK (URWP) Bezalel Smotrich who called for the justice system to adhere to Halacha.
Smotrich, who holds the party's second slot, announced that after Prime Minister Binyamin Netanyahu fired Naftali Bennet and Ayelet Shaked on Sunday, he wishes to be appointed justice minister in Shaked's place.
"It is my intention that the State of Israel is ultimately run according to the Torah. That is how it should be in a Jewish state," the 39-year-old lawmaker told Israel Radio.
He said he hopes that this would result in "a more just legal system."
מדינת ישראל לא תהיה מדינת הלכה

— Benjamin Netanyahu (@netanyahu) June 3, 2019
Smotrich said he wants to introduce parts of Torah into Israel, claiming it is far superior to the law as it was shaped by former Supreme Court Chief Justice Aharon Barak, who has been criticized often by the right for his judicial activism.
"Our country will return to the way it was in the days of David Hamelech and Shlomo Hamelech, run by the laws of the Torah," Smotrich said. He claimed there was no question of religious coercion.
צריך ללמוד ולהבין את מה שיש למשפט התורה לומר לימינו, איך הוא משתלב עם דמוקרטיה וסדרי חיים אזרחיים שהחברה קובעת לעצמה, והוא משתלב נהדר. יש אין סוף דוקטרינות תורניות שנותנות מקום לדמוקרטיה ולסדרי חיים שנקבעים דרכה. זה ממש לא מפחיד כמו שמנסים לצייר את זה. רק צריך ללמוד. >>>

— בצלאל סמוטריץ' (@bezalelsm) June 3, 2019
"Nothing will happen immediately, and nothing will be done by coercion," he said. "I think there should be Rabbinical courts and their authority should be respected and allowed to play a greater role."
Clarifying his remarks, Smotrich explains there is "kovod" to Jewish Law, and "this is our uniqueness", and therefore, he seeks the post that will permit him to implement his plan. He adds, "It is my hope, that in the future, Israel will be run in accordance with the Torah".
ואגב, המתודולוגיה המשפטית של אהרון ברק היא תורנית באופן מובהק. כך למשל, תפיסת הכל שפיט, המשפט החוקתי שקובע גבולות גזרה להכרעה הדמוקרטית של הרוב, קיומם של ערכי יסוד שהשיטה כולה מחוייבת לפעול לאורם. כל אלו הם עקרונות ברורים של משפט התורה. איך שהוא כשהוא אומר את זה זה נשמע לכם נהדר.

— בצלאל סמוטריץ' (@bezalelsm) June 3, 2019
"There is no coercion, and nothing is happening at a moment's notice. There remains a great deal of flexibility. For example, regarding monetary, law, according to Halacha, which we call "דיני נזיקין", this law is far more correct and just. I feel we must do what we can to give a chizuk to the Chief Rabbinate's batei din".
"There are endless Torah doctrines that provide room for democracy and the way of life determined through it. It's not as scary as they paint it. We just need to learn. And by the way, Aharon Barak's legal methodology is clearly Torah. Thus, for example, the perception of everything that is justiciable, the constitutional law that determines the boundaries of the democratic decision of the majority, the existence of basic values that the entire system is obligated to act in their light. All of these are clear principles of Torah law. Somehow, when he says it, it sounds great to you," Smotrich added.
למה את חושבת נועה, שמשפט התורה לא כולל את כל אותם אלפי שנים של תורה שבעל פה ופסיקת הלכה? מאיפה הבאת את זה (חוץ מירי על אוטומט כדי לתקוף אותי בכל הזדמנות…)? וודאי שזה כולל, ובדיוק לכן משפט התורה יכול להתאים לימינו בלי הפחדות וסיסמאות מטופשות על סקילת נשים, שנובעות בעיקר מבורות. https://t.co/pqRKvinvRM

— בצלאל סמוטריץ' (@bezalelsm) June 3, 2019
Regarding the justice ministry post, Smotrich adds, "I am ready to take the mission with great joy. It is clear to me that I am not going to make far-reaching changes – it will be in the next term. This case is very important. The Justice Ministry is involved today in almost everything that happens in the government".
האנשים שעובדים כבר שנים להקים מדינה איסלאמית שתנהג על פי חוקי השריעה 10 דקות מתל אביב נבהלים משאיפה למשפט עברי במדינת היהודים. הגיוני סך הכל.

— בצלאל סמוטריץ' (@bezalelsm) June 3, 2019
Responding to Smotrich's words, MK Avigdor Lieberman announced that his warnings of a "halachic state" are not imaginary, but a significant threat. "Listen to what Smotrich – a candidate for the justice minister post – has said. This is no longer just a comment of a delusional hilltop boy, but a statement of intent, he wants a Halachic state," he said.
Video below of Smotrich at Yeshiva Merkaz HaRav on Yom Yerushalayim.
אברהם פריד הגדול מכולם מקפיץ את כולם בישיבת מרכז הרב. הכל הולך אחר החיתום. חג ירושלים שמח! pic.twitter.com/hFwqbw33uM

— בצלאל סמוטריץ' (@bezalelsm) June 2, 2019
(YWN Israel Desk – Jerusalem)