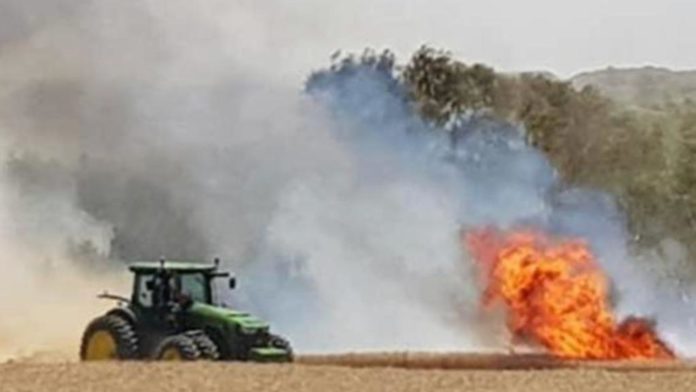 16 fires burned in the Gaza periphery over the course of Shabbos due to balloon bombs launched by Hamas activists at Israel. More than 100 dunam of wheat were destroyed in the fires.
Four firefighting planes together with numerous firefighting teams on the ground gained control of a fire that had approached the cemetery in Upper Nazareth. The fire had initially threatened a food packaging plant in the area.
A 14-year-old girl was seriously injured and another young girl was lightly injured when a motorcycle hit them as they were crossing Derech Matzada Street in Be'er Sheva. United Hatzalah volunteers and ambulance teams from Magen David Adom treated the injured teens before they were transported to Soroka hospital.
A 12-year-old boy was bitten by a snake in the Golan Heights while camping. He was rushed to Ziv Hospital in Safed where a spokesperson from the hospital said on Motzei Shabbos that he is in stable condition.
Six people, including a seriously injured 28-year-old man, were hurt in a car accident that took place near the Ayal interchange on Highway 6.
A 28-year-old man died after he drowned on an unwatched beach north of Acre (Akko). The man was pulled form the water and taken to the Galil Medical Center in Nahariya where attempts were made to resuscitate him.
Golan Search and Rescue Unit volunteers rescued three hikers (two men and a woman) wh were swept away by the strong waters of Banias river. The rescuers entered the water with ropes and managed to secure the hikers and pull them to safety.
A large explosion took place on a Syrian military base after an ammunition depot exploded. The explosion was caused by the encroachment of a brush fire that engulfed the depot. the base was located to the west of Damascus.
(YWN Israel Desk – Jerusalem)