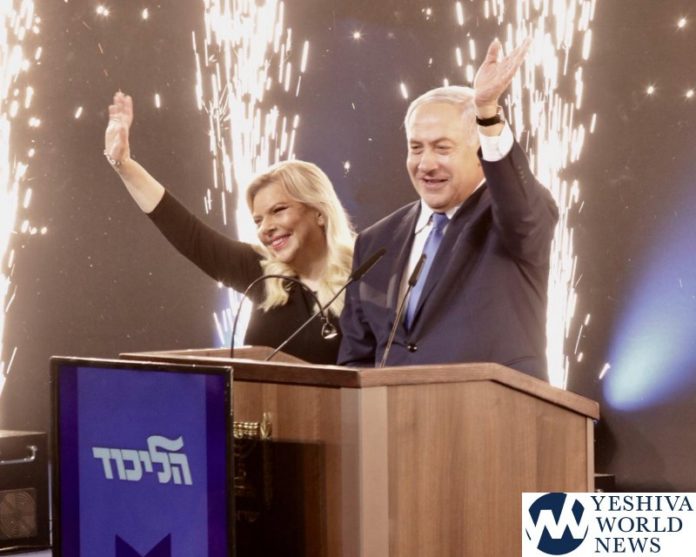 Lawmakers from Israel's ruling Likud party say they will only accept Benjamin Netanyahu as the party's candidate for prime minister, "regardless of the election results."
Netanyahu's party issued a statement Sunday saying that all of its Knesset members signed a "unity petition" affirming that Netanyahu "is the only Likud candidate for prime minister — and there will be no other candidate."
The move appeared aimed at quashing any demand by potential coalition partners that Netanyahu step down.
The letter, which was signed by Likud MKs, states, "We the undersigned, candidates on the Likud list for 22nd Knesset, emphasize that we will not accept any dictation from any other party. Regardless of the election results, Prime Minister and Likud Chairman Binyamin Netanyahu is the only Likud candidate for prime minister and there will be no other candidate".
The letter was released after Yisrael Beitenu Chairman MK Avigdor Lieberman on motzei Shabbos called on Likud MKs to select the representative who will be a partner to a coalition government, which he will call to establish following elections.
Liberman selected Knesset Speaker (Likud) Yuli Edelstein to lead a coalition government, prompting the Knesset Speaker to respond, "Netanyahu is the only Likud candidate to become the next prime minister…"
נתניהו הוא המועמד היחיד של הליכוד לראשות הממשלה הבאה. שרבוב שמותיהם של בכירים בליכוד כמחליפים לנתניהו, אינו אלא נסיון נוסף ובלתי פוסק לעשות דה לגיטימציה למנהיג הליכוד הנבחר. לא ניתן לאיש לפגוע באחדות הליכוד.

— Yuli Edelstein 🇮🇱 (@YuliEdelstein) August 3, 2019
Opposition MKs were critical of the declaration, which was initiated by MK David Bitan.
MK (Blue & White) Yair Lapid stated, "Bibi was correct. Behind his back in Likud, everyone is already searching for his successor, and they are talking with him about it. In the interim, quietly. Not for a long time".
MK Yoaz Hendel (Blue & White): Netanyahu's statements of eternity are forever a parody of personality worship. Likud is preparing for the day after Netanyahu. What I hear from my Likud friends and the contacts and conversations between them and us, no Netanyahu document or petition will stop it".
Labor party chairman, MK Amir Peretz: "Netanyahu's paranoia has crossed every boundary, apparently even realizing that after his reign, the Likud has turned from a liberal national party to a one-man worship party. On September 17th, we will change priorities, and we will decide that people must come first and foremost".
(YWN Israel Desk – Jerusalem)