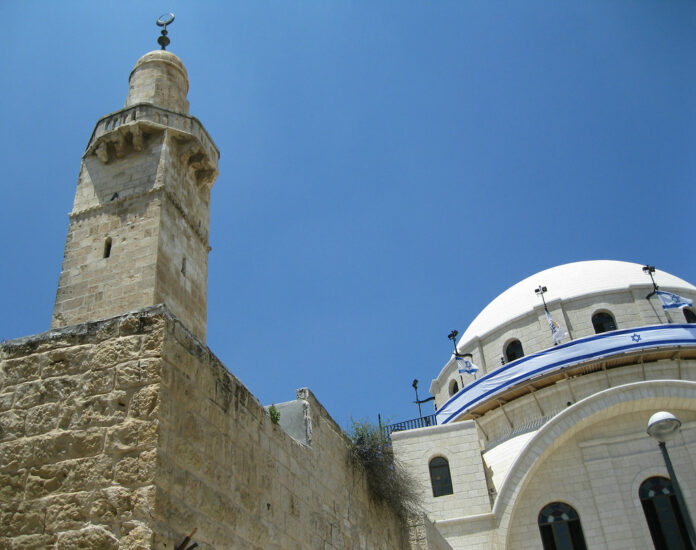 According to reports in the Israeli media, the Jerusalem Islamic Waqf, has begun renovations on a Mosque that is located in the heart of the Jewish Quarter of the old city. The Waqf, is responsible for controlling and managing the current Islamic edifices on and around the Har Habayis in the Old City of Jerusalem and is managed by Jordan.
The mosque in question is called the Sidna Omar Mosque and it is located adjacent to the Churva Synagogue. According to various reports, the work is set to include the renovation of interior spaces, the restoration of the outer walls and stone works. this is the second mosque that will be renovated in the Old City in recent months. The other mosque is known as the "Jewish Mosque". this mosque has been closed for decades but is expected to re-open to worshipers in the coming weeks. The Waqf has already appointed Sheikh Aassem Jodeh to be the mosque's Imam.
In an interview with Tazpit News Agency Jodeh told reporters that: "The renovation of the mosque is coordinated with the Waqf administration in Jordan, and with Israeli officials and the representatives of the Israel Antiquities Authority and the Jerusalem Police. The coordination is overseen by Sheikh Yasser Abu Ghazallah, who is responsible for the Waqf's mosque reconstruction project in the Old City."
With regard to the noise factor, the Waqf has reportedly said that they will not install a speaker system on the mosque's minaret, due to its proximity to the Hurva Synagogue. However, Jewish residents of the quarter and worshipers in the Hurva Shul have already heard prayers coming from the mosque and are expressing fear that the proximity of the mosque to several historic and active shuls will increase tension in the Old City.
According to a report that appeared on Arutz Sheva's website, there are 30 mosques in the Old City complex all under Jordanian control. The Waqf intends to renovate more Muslim sites in the Old City, with the help of the Al Quds Committee, which is sponsored by the King of Morocco.
(YWN Israel Desk – Jerusalem)