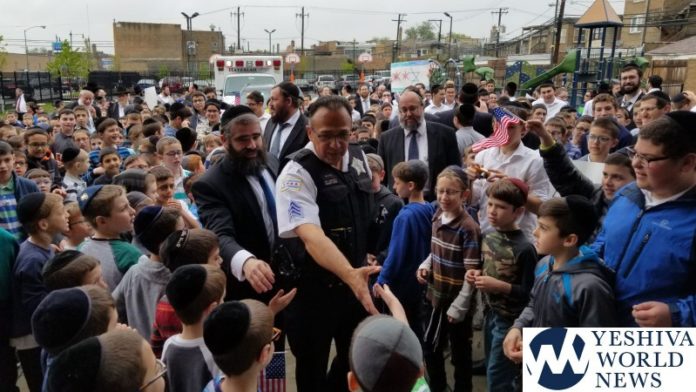 (VIDEO & PHOTOS IN EXTENDED ARTICLE)
The steady torrent of rain came to a sudden halt this past Monday morning at precisely 10:55. It was at exactly that very moment that over 450 young boys from Yeshiva Tiferes Tzvi in Chicago had planned to line up outside, in their school yard, to pay tribute to retiring police officer, Sergeant Mark George, for his decades of service to the community.
At a recent school safety meeting the Sergeant had mentioned to the school administration that he would be retiring in the near future. The school's principal, Rabbi Nosson Muller, along with the Dean of students Rabbi Shmuel Tenenbaum and building manger Mr. Duvie Birnbaum immediately began planning a surprise and well deserved sendoff celebration for the man who has always been there for the community at large, and for the school in particular.
With the help of Hatzalah liaison, Mr. Tzvi Montorse, arrangements were made to have the Sergeant "stop by" the school one last time on his last day of duty. What met the Sergeants eyes was something he described amidst tears as "A day I will never forget! In my thirty years of service I have yet to receive such appreciation and acknowledgement. You guys are really special".
Students from grades K-8 lined the two sides of the yard holding banners of appreciation and thanks, as Sergeant George and his colleagues drove through the sea of well-wishers in their patrol cars. Many boys stood waving the American flag as they clapped and cheered for the man who has always been there for them.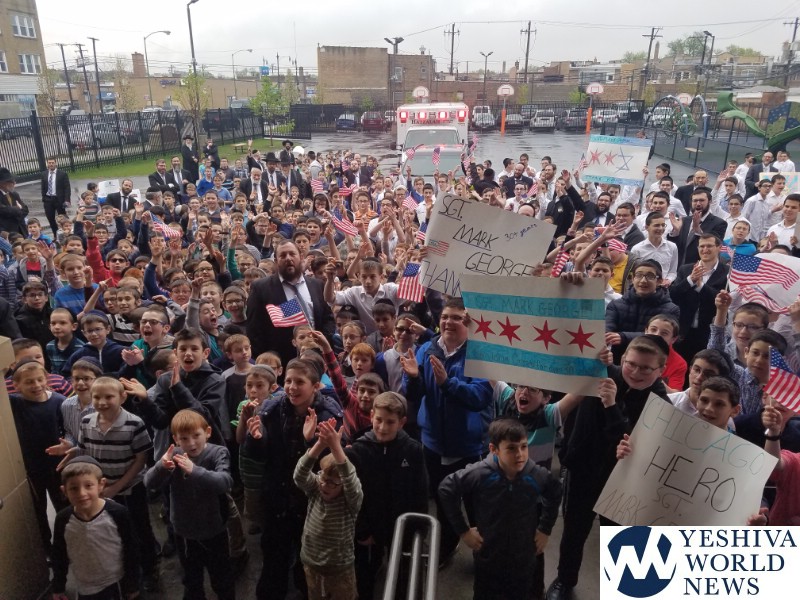 Moved beyond words, Sergeant George exited his car and walked through the hundreds of boys who reached out to shake his hand and wish him well.
Rabbi Muller then called upon the Sergeant to walk up the outside terrace stairs in front of the school building and accept an award on behalf of Yeshiva Tiferes Tzvi and their sister school, Joan Dachs Bais Yakov. "We are blessed to live in a country where religion can be practiced freely", began Rabbi Muller.
"Yet we will never take for granted the service provided to our community, schools, families and individuals by our dedicated officers, who put their lives out there for us, on a daily basis. They are G-ds messengers in ensuring a safe neighborhood for everyone. We are forever indebted to Mark and all his colleagues for what they do for us. This is but a small token of appreciation that we can publicly express to all of you for all that you do for us" With loud chants of "Mark! Mark! Mark!" bellowing out of the entire student body the Sergeant took the mike to respond… but he just could not get words out of his mouth. After gaining back his composure and with tears streaming down his face the Sergeant expressed his appreciation for such an enormous expression of thanks, as well as how much he enjoyed working all the years in such a community. "No one knows how to be there for each other like the Jewish community does. I have seen that so many times throughout my career. Today you have shown me time and again how by investing in our youth we merit to see the fruits of our labor. You boys are truly amazing!"
A small reception was then held in the business conference room with the school administration, where once again the Sergeant expressed his amazement for the community and how taken he was by the reception made for him.