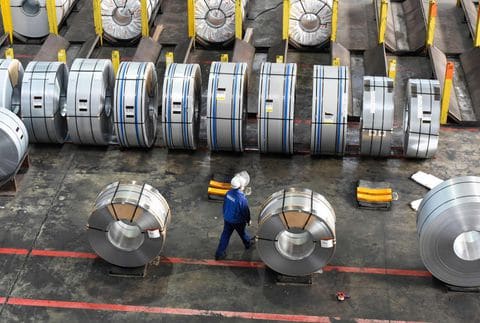 Top European officials are holding last-ditch talks Wednesday with the U.S. commerce and trade chiefs just two days before the Trump administration decides whether to hit Europe with punishing new tariffs.
Potential U.S. tariffs on European steel or quotas on foreign cars have raised threats of retaliation and fears of a global trade war — a prospect that is already weighing on investor confidence and could hinder the global economic upturn.
U.S. Commerce Secretary Wilbur Ross and U.S. Trade Representative Robert Lighthizer are holding meetings Wednesday and Thursday in Paris with EU, French and German officials.
A final decision on U.S. President Donald Trump's threatened steel and aluminum tariffs is expected by Friday. The administration is also investigating possible limits on foreign cars in the name of U.S. national security.
EU Trade Commissioner Cecilia Malmstrom, ahead of her meetings with Ross and Lighthizer, tweeted Wednesday "the EU wants to be fully excluded from these tariffs and rather engage in a positive transatlantic trade agenda."
U.S. Commerce Secretary Wilbur Ross criticized the EU for its tough negotiating position.
"There can be negotiations with or without tariffs in place. There are plenty of tariffs the EU has on us. It's not that we can't talk just because there's tariffs," he said. He noted that "China has not used that as an excuse not to negotiate."
Speaking on a panel on cooperation between countries, Ross expressed concern that the Geneva-based World Trade Organization and other international organizations are too rigid and slow to adapt to changes in business.
"We would operate within (multilateral) frameworks if we were convinced that people would move quickly," he said.
The European Union is seeking exemptions on the steel and aluminum tariffs, which Trump hopes will revive domestic U.S. industry but which could hurt American business activity abroad. The EU has notably threatened to impose tariffs on U.S. orange juice, peanut butter and other goods in return.
Ross and Lighthizer seem like the odd men out at this week's gathering at the Paris-based Organization for Economic Cooperation and Development, an international economic agency that includes the U.S. as a prominent member.
Other speakers at the OECD pleaded Wednesday for free trade and multilateral cooperation to fight tax evasion or climate change, though some also discussed the damage caused by dumping of cheap goods, notably by China.
French President Emmanuel Macron is expected to argue vigorously against the kind of "America-first" trade policies that Trump champions.
The OECD issued a report Wednesday saying "the threat of trade restrictions has begun to adversely affect confidence" and tariffs "would negatively influence investment and jobs."
The OECD also said persistent high oil prices could push up inflation and push down household incomes.
After a first-quarter slowdown, the OECD slightly revised down its forecast for world economic growth this year to 3.8 percent, with 3.9 percent expected next year.
(AP)