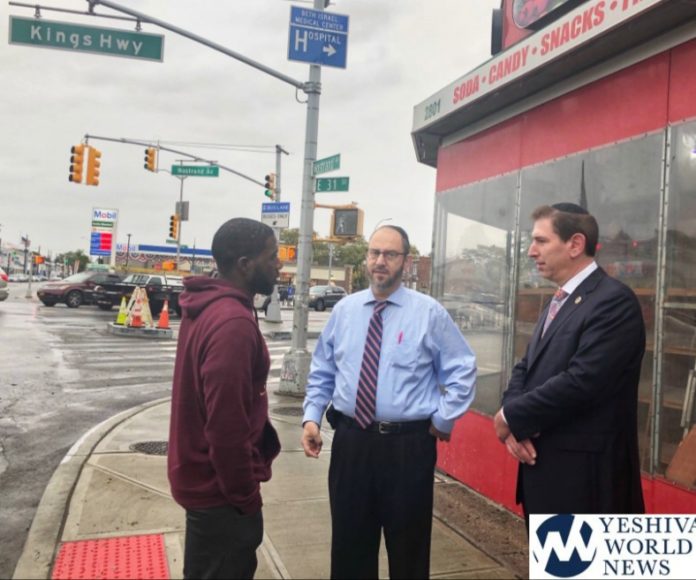 The gridlock, congestion and pedestrian safety issues that are plaguing the area surrounding Kings Highway and Nostrand Avenue since the SBS bus lane and other treatments were added are issues that many local residents are up in arms about.
Senator Felder is taking these issues seriously.
Felder called on DOT Commissioner Trottenberg and NYC Transit President Byford to take immediate steps to remedy the issues in a letter which follows below.
Earlier this week, Senator Felder and Councilmembers Chaim Deutsch and Jumaane Williams met to walk through the area and assess the issues and discuss possible solutions – see attached photo.
October 11, 2018
MTA New York City Transit
Andy Byford, President
2 Broadway
New York, NY 10004
Dear President Byford,
Over the past few weeks, my colleagues Assemblywoman Helene Weinstein, Councilman Chaim Deutsch, Councilman Jumaane Williams and I have been inundated with complaints about unmanageable gridlock around Kings Highway and Nostrand Avenue. The new bus lane on Kings Highway coupled with the Nostrand Avenue treatments has created congestion that is wreaking havoc all the way to Flatbush Avenue and beyond.
This untenable situation is causing lengthy delays, endangering pedestrians and intensifying commuter stress. The negative effects of the select bus service lane are now becoming clear. Though your agency asserts that this is a work in progress these issues must be addressed and corrected immediately. To remedy this dangerous situation, we ask you to take any, and all necessary steps to ease traffic flow.
I look forward to your swift response.
Sincerely,
Simcha Felder
Senator, SD 17
SF/st
BCC/Polly Trottenberg, Commissioner, NYC DOT
Better picture of the madness. Cars end up making a u-turn because they don't feel like sitting in traffic. pic.twitter.com/RwdAdMKKS6

— rebecca bernstein (@yehudarach) October 5, 2018
Hey @NYC_DOT you know that new turning lane you put on Nostrand Ave & Kings Highway? Well it's made traffic worse. Traffic backed up almost an entire block. pic.twitter.com/StrfiEKSFU

— Yaakov (Jack) Kaplan (@Jkaplan215) October 4, 2018
YUP! Remember folks this is about safety and increasing fines….. I mean ridership. @MTA @NYC_DOT @JumaaneWilliams pic.twitter.com/AfmBpCEGn0

— Yehuda Cohen (@CohenYehuda) October 12, 2018
With record speed, @NYC_DOT installed its bus lane on Kings Hwy, which I suppose explains why they didn't notice the dangerous conditions they left behind. pic.twitter.com/pCcvh6Axg2

— Kalman Yeger (@KalmanYeger) September 30, 2018
Here's a quick fun fact about the new Kings Highway bus lanes…..

You know those big Access-A-Ride busses that are owned by @MTA & @nyctAAR !?

Yup they can't travel in that lane either. #Tickets @KalmanYeger @SenMartyGolden @JumaaneWilliams pic.twitter.com/lwREkD2wd6

— Yehuda Cohen (@CohenYehuda) October 16, 2018
Hey @MTA, here's an idea: Why don't you park your car in one of @NYC_DOT's fancy Kings Highway buslanes, instead of blocking this @FDNY fire hydrant.#justathought pic.twitter.com/8GCArTElZ5

— Kalman Yeger (@KalmanYeger) October 16, 2018
(YWN World Headquarters – NYC)