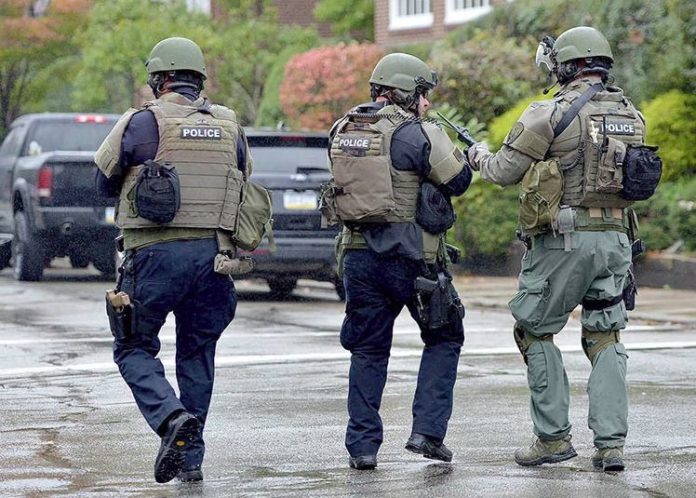 Police responding to an active shooter call at a Pittsburgh synagogue were met almost instantly by a hail of automatic gunfire from a suspect firing an AR-15 rifle.
Dramatic radio transmissions recorded by Broadcastify, show the first call to police was from the Tree of Life Synagogue, reporting an active shooter. "The complainant says they have an active shooter in the building, a second call says they are being attacked."
Police received calls from people inside the synagogue, "Okay, multiple gunshots are heard from the lobby, possibly 20-30 shots." "There are several people hiding."
Police were fired on as soon as they got to the scene, "We're under fire, we're under fire, he's got an automatic weapon, he's firing out of the front of the synagogue."
[VICTIMS IDENTIFIED: Names of 11 Fatalities in Pittsburgh Synagogue Massacre Have Been Released – Ages 54 to 97]
Timeline of events via CNN:
9:49 a.m ET: An anti-Jewish message is posted on a social media account for Robert Bowers, identified as the alleged gunman. "I can't sit by and watch my people get slaughtered," he said. "Screw your optics, I'm going in."
9:54 a.m. ET: 911 calls about an active shooter come into the Allegheny County Emergency Operations Center.
9:55 a.m. ET: Two police cars are dispatched, according to radio traffic posted by Broadcastify. They are told one caller reports 20 to 30 shots heard from the lobby. Numerous other officers say they are responding.
About four minutes later: An officer identifies himself by number and says he is on the perimeter. "We're under fire. He's got an automatic weapon and firing at us from the synagogue."
Moments later: Another officer says one of her colleagues, who can be heard shouting, is shot in the hand. Another officer calls for a medic.
Just after 10 a.m. ET: An officer says, "Every unit in the city needs to get here now." Dispatcher relays request to all available units.
Approximately 10:02 a.m. ET: Officers on scene request city and county SWAT teams.
About 10:11 a.m. ET: There is a discussion among officers about going into the synagogue. One says there has been no gunfire since officers initially arrived. "Once we have the resources here, we should consider (going in)."
"We're under fire. He's got an automatic weapon and he's firing at us."

The mayhem began just before 10 am Saturday when a gunman entered Tree of Life synagogue in Pittsburgh, Pa. claiming 11 lives and wounding six others.@DavidBegnaud is in Pittsburgh https://t.co/yOyyhE7JT0 pic.twitter.com/6kszNCnDiY

— CBS Evening News (@CBSEveningNews) October 28, 2018
10:19 a.m. ET: A worker at the emergency operations center said 911 calls indicated the shooter came into the lobby and began firing. People ran and were hiding in the building.
10:21 a.m. ET: Someone says an officer fired at the suspect during the initial gunfight and believes the gunman may have been hit.
10:25 a.m. ET: Officer says suspect is wearing green vest or green jacket with a weapon slung around his neck.
About 10:30 a.m. ET: Tactical teams enter the synagogue.
A few minutes later: There is talk about evacuating people and providing patrol officers at the front door to cover their exits.
An officer describes finding a spent magazine from a Kalashnikov rifle in the hallway.
10:33 a.m. ET: The suspect is described as a tall white male, short hair, light blue shirt and jeans. A few minutes later another officer adds that someone who had been hiding says the suspect is unshaven, is heavy set and has on a coat.
10:36 a.m. ET: A tactical officer describes finding four bodies in the atrium. Another person is alive.
10:40 a.m. ET: Officers find four more bodies.
10:41 a.m. ET: One victim, who has a tourniquet, is brought out to a waiting armored vehicle called a BearCat.
10:43 a.m. ET: Tactical teams rescue two more people from the basement. Someone mentions there is still no contact with the suspect.
About 10:53 a.m. ET: Shots are heard on the radio. "Contact! Contact! Shots fired! Shots fired!" an officer shouts. An officer says there is a man barricaded on the third floor, firing at them. An officer is shot, according to radio traffic.
10:59 a.m. ET: Shots are fired.
11:03 a.m. ET: Police tell each other there are negotiations with the gunman. "He's been given orders to crawl out. He's not done so yet." Police say he has an AR-15 and a handgun. They later find two more handguns, according to scanner traffic.
11:04 a.m. ET: Suspect puts his hands in view. A few minutes later, he gives police his name and age.
11:08 a.m. ET: Officer calls for radio silence because suspect is surrendering and crawling out of the room he was hiding in. Suspect is said to be injured. According to an officer on the radio, he tells police "All these Jews need to die."
(YWN World Headquarters – NYC)