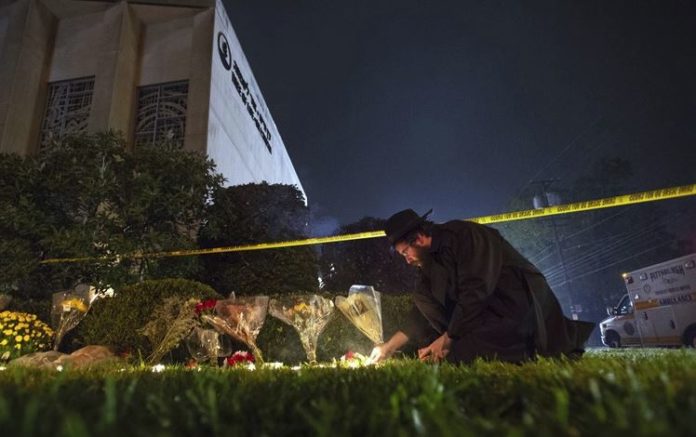 Following the massacre at a synagogue in their city on Shabbos morning, a group of Jewish "leaders" in Pittsburgh, have published an open letter telling President Donald Trump not to visit until he denounces white nationalism.
Tree of Life Rabbi Jeffrey Myers, however, said he would welcome a visit from the president.
The letter, posted on the liberal Jewish action website Bend the Arc, was signed by 11 Jewish leaders and had drawn more than 22,000 additional online signatures Monday morning.
"For the past three years your words and your policies have emboldened a growing white nationalist movement," the letter says. "You yourself called the murderer evil, but yesterday's violence is the direct culmination of your influence."
It adds that Trump is "not welcome in Pittsburgh until you fully denounce white nationalism."
[President Trump, First Lady to Visit Pittsburgh on Tuesday Following Synagogue Massacre]
Lynette Lederman, a former president of the Tree of Life Synagogue, said Trump was a "purveyor of hate speech" and that she would not welcome him.
Myers, however, said the president of the United States would always be welcome.
"I'm a citizen. He's my president," Myers told CNN. "He is certainly welcome.
"The blood of these victims is on President Trump's hands," says Tammy Hepps who wrote an open letter to the President pic.twitter.com/BN6f4Ck7WN

— Breaking911 (@Breaking911) October 29, 2018
Tree of Life synagogue rabbi: Trump is "certainly welcome" to visit

"The President of the United States is always welcome. I am a citizen, he is my president. He is certainly welcome."pic.twitter.com/btxQ5hugVx

— Breaking911 (@Breaking911) October 29, 2018
(YWN World Headquarters – NYC)