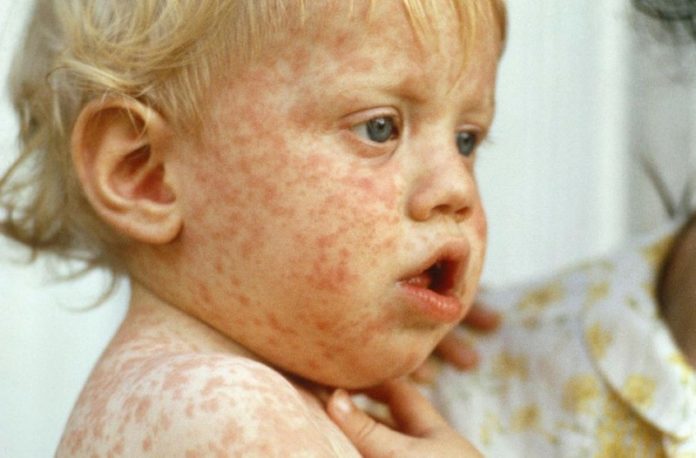 THURSDAY MORNING UPDATE – MORE MEASLES IN LAKEWOOD: Contagious Person Visited Wedding Hall, Mesivta, BMG, DMV; 12 Cases Confirmed, Another 11 Suspected
The measles outbreak continues to spread, with additional cases reported in many areas. As YWN reported on Tuesday, the outbreak is mostly affecting the Frum population, fueled by anti-vaccine propaganda spread by a small minority of the community. Not only is the anti-vaxxer cult responsible for this outbreak, but they are responsible for anti-Semitic propaganda that has begun spreading online – specifically targeting Jews because of failing to get vaccinated.
Lakewood has at least 11 confirmed cases, but that number is likely higher. In just one case, YWN has been informed of 6 people in one family of anti-vaxxers that all have signs and symptoms of measles. The mother refuses to take her children to a doctor due to fears of the "doctor injecting poison into her children".
Despite threats of lawsuits by the anti-vaxxer cult, the The Ocean County Health Department continues to support and highly encourage the exclusion of non-vaccinated children from schools, preschools and daycares in the outbreak area. These entities have the authority to make that decision when an outbreak has been declared by the New Jersey Department of Health.
Brooklyn has at least 24 confirmed cases, mostly in Boro Park and Williamsburg.
There are unconfirmed reports of cases in Passaic, NJ. YWN has been unable to confirm them at the time of publishing.
New York officials have confirmed 68 cases of measles in just Rockland County, making it the largest outbreak in the state in decades.
The Journal News reports Rockland County's outbreak originated from three groups of travelers from Israel, and it has affected residents in New Square, Monsey and Spring Valley. Rockland health officials say the affected patients are a mix of adults, teens and children. County officials are monitoring schools to ensure non-immunized children are not attending.
LAKEWOOD'S BMG URGES EVERYONE TO VACCINATE AFTER CONTAGIOUS PERSON WAS INSIDE: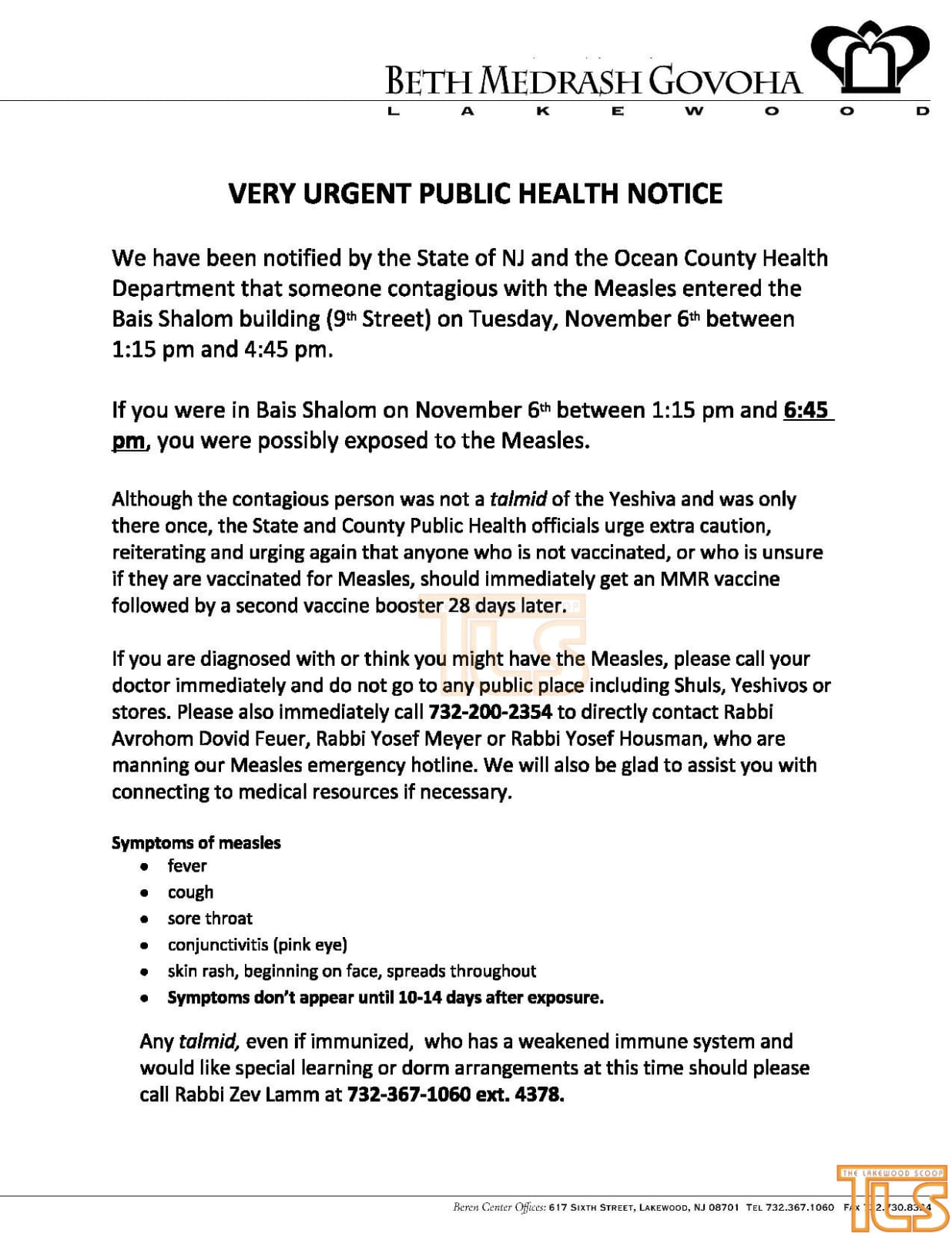 YWN POLL: SHOULD YESHIVAS KEEP NON-VACCINATED CHILDREN OUT OF SCHOOL?
STATEMENT FROM THE OU AND RCA:
Orthodox Jewish parents, like responsible parents across the United States, overwhelmingly vaccinate their children against measles, mumps, rubella, polio and the other childhood diseases for which inoculations are now almost miraculously commonplace. As in many communities, a small minority of parents chooses not to do so. The ongoing measles outbreak demonstrates how this could bear very serious consequences, not only for their own children but others' too, especially those medically unable to be vaccinated. The Orthodox Union (OU) and the Rabbinical Council of America (RCA) strongly urge all parents to vaccinate their healthy children on the timetable recommended by their pediatrician.
Judaism places the highest value on preserving human life. It is well known that those facing even a potential life or death situation are instructed to set aside the Sabbath and other key tenets of halachic (Jewish law) observance until the emergency has passed. Prayers for good health and for the complete and perfect healing of the ill are an ages-old aspect of Jewish tradition. But prayers must go hand-in-hand with availing oneself of medical science, including vaccination.
There are halachic obligations to care for one's own health as well as to take measures to prevent harm and illness to others, and Jewish law defers to the consensus of medical experts in determining and prescribing appropriate medical responses to illness and prevention. Therefore, the consensus of major poskim (halachic decisors) supports the vaccination of children to protect them from disease, to eradicate illness from the larger community through so-called herd immunity, and thus to protect others who may be vulnerable.
While the health of children is an important consideration, everyone should consult with his or her religious, medical and legal advisors in determining what actions to take. Nothing in this statement should be construed to add to or detract from rights or obligations created by New York or other state and federal statutes and regulations.
TORAH ACADEMY FOR GIRLS (FAR ROCKAWAY)
6 Kislev 5779
November 14, 2018
Dear Parents:
As you know, well before the current measles outbreak, we had instituted a very vigorous campaign to insure that every child is immunized. Boruch Hashem, we have had several reviews by the New York City Health Department who were amazed at the impeccable records and the degree of compliance that our parents have shown. We would like to express our sincere appreciation to all of you who have cooperated to see that your daughters were up to date with their immunizations, thereby insuring the safety of the entire school population.
Up until this time, there has been a legal loop hole recognized by the city, called "religious exemption". While the percentage of parents opting for this exemption was less than half a percent of our school population, at this point in time, it has been decided that the school will no longer allow children with religious exemptions to be in school. I have personally reached out to the parents who have used this exemption and informed them of this policy. Please be assured that each and every student in our school will be immunized and no student will be in school who has not received the required immunizations.
We pray that everyone in Klal Yisroel remain healthy and safe while we continue to do our hishtadlus to insure that outcome.
Sincerely,
Rabbi Meyer Weitman
Dean
CHICAGO YESHIVA & GIRLS SCHOOL: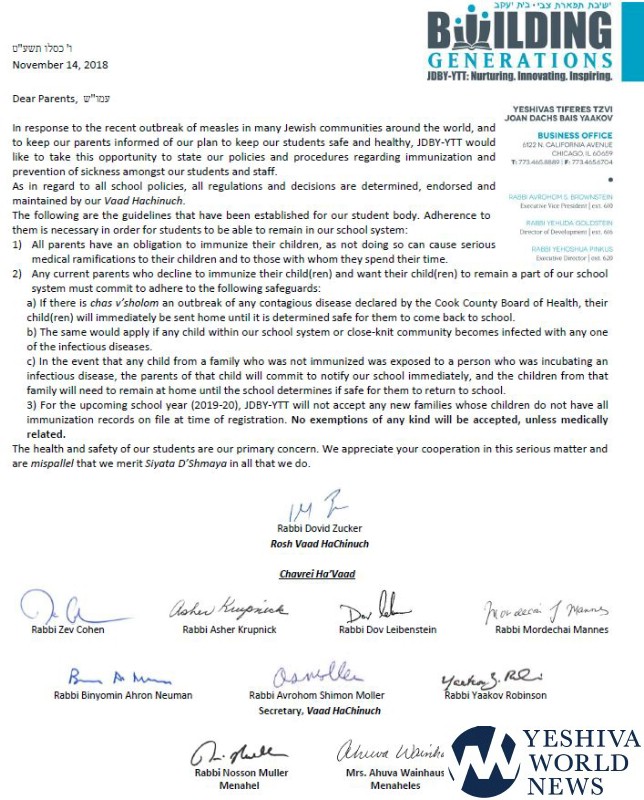 The following letter was released on Tuesday, and signed by HaRav Shmuel Fuerst, the Dayan of Agudath Yisroel of Illinois, and HaRav Yona Reiss, Ava Beth Din of the Chicago Rabbinical Council.
YWN has previously published an audio recording of HaRav Fuerst of Chicago regarding the vaccinations. Rav Fuerst joined the growing list of Poskim releasing Piskei Halacha directed towards the anti-vaxxers, following the measles outbreak which has spread across many Chareidi communities.
Rav Fuerst says he did alot of research into the issue (of vaccinations), and released the following message (audio below, transcribed by YWN):
"Every child must have vaccination shots. And a school should not take in any kids that were not vaccinated because of the Issur of 'Lo Saamod Al Dam Reacha' – because another child can catch this sickness. It can be measles, mumps, polio or any of these types of illnesses which are almost completely unheard of, and now we are hearing of them because people are not getting vaccinations.
"If you have a playgroup, you must make sure that all the children are vaccinated. If there is a child who is not vaccinated, you (the playgroup owner) must notify all the other parents, because you are putting them all in jeopardy".
Rav Fuerst says this applies to children simply going to play at another child's home. If they are unvaccinated, the other family must be notified.
ISRAELI POSKIM – WHOEVER DOESN'T VACCINATE IS A MURDERER
"Whoever isn't vaccinated is a murderer" – so reads a Kol Koreh signed by leading Gedolim and Poskim in Eretz Yisroel. The letter was issued in an attempt to curb the rampant spread of the Measles currently spreading through Chareidi communities in Israel, as well as in other communities in Israel and around the world.
The Gedolim who signed the Kol Koreh include: Hagaon HaRav Yitzchak Zilberstein, Hagaon HaRav Shimon Ba'adani, Hagaon HaRav Sriel Rosenberg, Hagaon HaRav Moshe Shaul Klein and Hagaon HaRav Menachem Mendel Lubin.
YWN reported about a letter released by Hagaon HaRav Moshe Sternbuch, who stated specifically it is the responsibility of every father to make certain his children are vaccinated, bringing quotes from Shulchan Aruch citing the matter of שפיחת דמים, causing loss of life.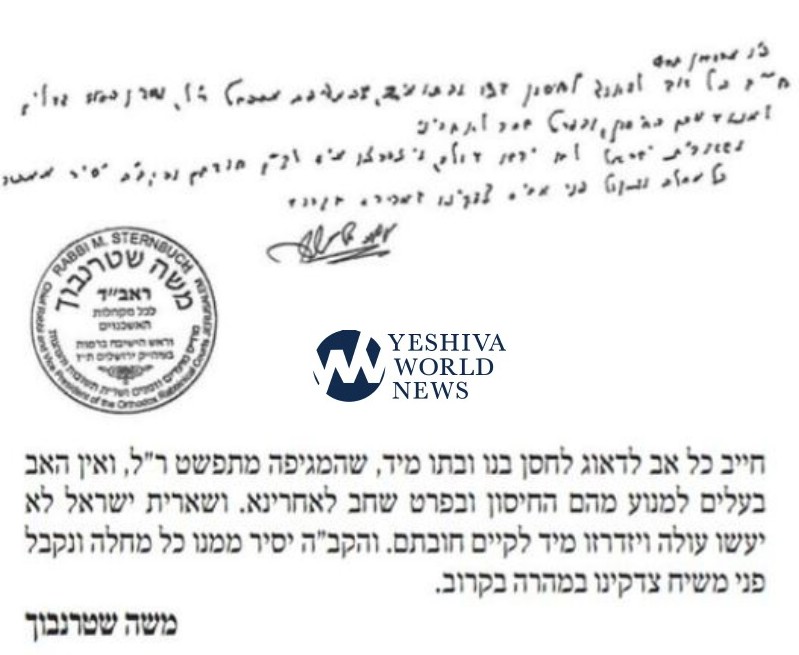 An audio recording of Hagaon HaRav Uren Reich, the Rosh Yeshiva of Woodlake, is currently viral on social media. The shiur was recorded THREE YEARS AGO, but the words are timely. YWN has confirmed that Rav Reich's opinion on the matter is the same, and even stronger now than before against the anti-vaxxers.
Measles is highly contagious, so anyone who is not protected against measles is at risk of getting the disease.
People who are unvaccinated risk getting infected with measles and spreading it to others, and they may spread measles to people who cannot get vaccinated because they are too young or have specific health conditions.
Individuals are considered protected or immune to measles if:
• they were born before 1957
• have received two doses of measles, mumps, rubella (MMR) vaccine
• have had measles confirmed by a health care provider
• or have a lab test confirming immunity
Symptoms include a fever, rash, cough, conjunctivitis or runny nose, and they could appear 10 to 12 days after exposure.
The virus can remain in the air or on surfaces for up to two hours.
To prevent the spread of illness, health officials are advising individuals who may have been exposed and who have symptoms consistent with measles to contact their health care provider, a local clinic, or a local emergency department before going for care.
(YWN World Headquarters – NYC)