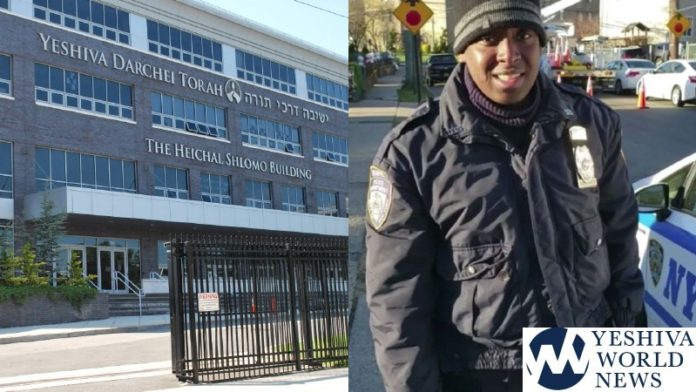 An NYPD Traffic Agent working in Far Rockaway was so impressed with the way a young Yeshiva boy behaved, that he not only complimented a Jewish neighbor, but allowed himself to be video-taped.
If that wasn't enough, the NYPD Agent then visited Yeshiva Darchei Torah where the child is a student to see firsthand how Jewish children are raised.
The following is a letter written by a parent of Yeshiva Darchei Torah on Tuesday morning. It was sent to the Rosh Yeshiva, Harav Yaakov Bender, and provided to YWN:
Dear Rabbi Bender,
I wanted to share with you the attached video with the following story, fresh from a few minutes ago.
I was standing in my driveway when a policeman standing on the street asked me "is that your kid walking down there?"
I ran out thinking the obvious "oh my gosh, did my baby run out to the street" but the policeman pointed at the 7 year old walking down the street to Darchei saying "I just want to tell you that I'm used to kids passing by me cursing me and getting away with it because they are kids, and I've seen good kids who would never do that. But this one! I've yet to see! A young child passing by saying "good morning officer how are you doing?" so I asked him if I can video him saying it and share with the father of the boy which he was happy to, and I've attached the video to this email.
I invited him thereafter to visit the school down the block and see the 2300 (bli ayin hora) kids just like this one. So, if a policeman walking in to the school now looking around please don't get scared 🙂
And this is at times when some people out there are trying to "help us" educate our kid…
Wishing you an easy fast and hatzlocho in the upcoming dinner!
Thanks,
-Yaakov
(YWN World Headquarters – NYC)