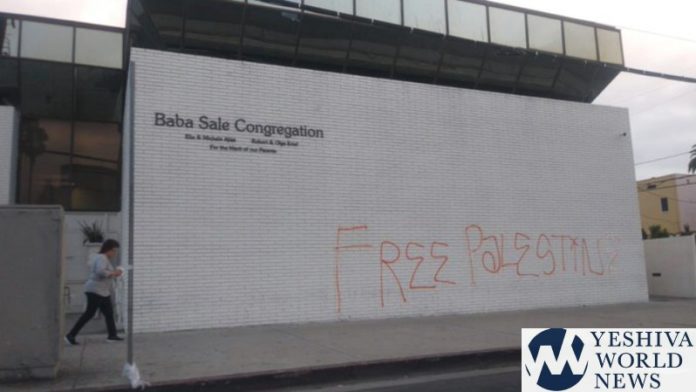 The "Baba Sale Congregation" in Los Angeles was the latest attack against Jews in the United States. This hate crime was committed early on 9/11.
According to reports on Twitter, the perpetrators waited for congregants to enter and begin Davening, and then sprayed the graffiti, so that when they come out they should see it.
"Free Palestine" was scrawled in large lettering on the building.
A video posted to social media (embedded below) shows the Shul painting over the words later on Wednesday morning.
The Baba Sale Congregation is located at N. Fairfax Avenue in Los Angeles.
Police are investigating the incident.
*****SIGN UP NOW —- GET YOUR NEWS IN RECORD TIME***** Make sure you are one of the more than 22,000 that signed up to YWN WhatsApp Status to receive news in live time. Click this link – or send a message to 1-888-4-YW-NEWS (888-499-6397) – to see our status posts*****
#Jewish Synagogue tagged with #Antisemitic graffiti in Los Angeles by BDS activists. BDS is the 21st Century #Antisemitism, it radicalized all other extremist movements, promotes violence against Jews and resembles the Nazi methods to boycott The Jewish people. pic.twitter.com/Ue9zB7hBym

— Adam Milstein (@AdamMilstein) September 11, 2019
Anti-semitic Vandalism @ Baba Sale Congregation this morning around 5:20 AM. It seems that the perpatratiors waited for congregants to enter and then sprayed the grafitti, so that when they come out they should see it…

— Rabbi Yonah (@RabbiYonah) September 11, 2019
(YWN World Headquarters – NYC)