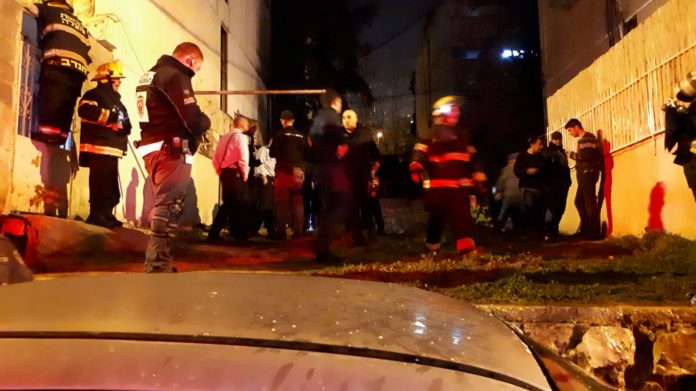 Magen David Adom ambulance teams and United Hatzalah volunteer EMS responders treated 9 people who were injured in an apartment fire on Bar Yochai Street in the Katamon neighborhood of Jerusalem on Tuesday evening.
The nine people, as well as others, were evacuated from the building by firefighters before receiving treatment for smoke inhalation. Among those injured were four women, four children and one man.
United Hatzalah Psychotrauma and Crisis Response Unit members and K-9 unit, were on scene to treat people suffering from shock and psychological stress.
United Hatzalah volunteer EMT Menachem Leff said: "I along with other United Hatzalah volunteers who live in close proximity to the area, provided first aid medical treatment to the injured people after they were evacuated from the building by firefighters. One woman was moderately injured while the others were only lightly injured."
Batya Jaffe who heads the Psychotrauma and Crisis Response K-9 Unit said: "Our team members, including the K-9 unit were called to the scene to provide emotional and psychological support for those affected by the fire and their neighbors. We worked in tandem with all of the emergency forces at the scene of the fire. We were on hand and treated anyone who needed our support at the scene, helping to calm them down and come to terms with the situation."
Shift Chief for the Fire and Rescue Department in Jerusalem Reshef Tzalach said: "Following the report of the fire on Bar Yochai Street in Katamon, our teams raced over to the scene and arrived very quickly. We saw people in upper floors holding their children out of windows in order to protect them from the flames and smoke. Our teams climbed the inner stairs as well as deployed external ladders to reach the residents trapped inside and evacuate them as fast as possible. I can say that without a doubt, due to the fast a professional response of our teams a very large tragedy was prevented tonight."