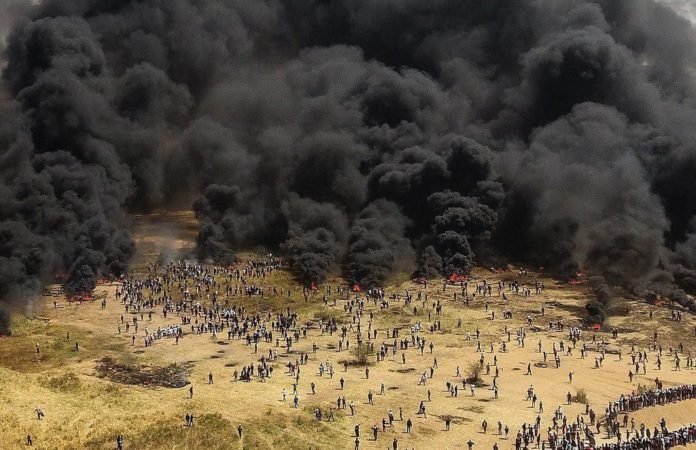 Nine persons were killed and 150 injured in clashes across the Gaza border in southern Israel over the weekend. Gazans set thousands of tires afire on Friday and Saturday, resulting in a thick black smoke engulfing the region. An estimated 20,000 Gazans took part in the violent protest, which Gaza organizers dubbed the March of the Return. IDF officials stress they will not permit any damage or compromise to the area security infrastructure.
Israeli firefighting apparatus were used in an effort to contain the thick black smoke that bellowed from the burning tires. The IDF Spokesman's Office added the burning of the tires did not have the effect sought by terrorists, and the Gazans on the other side of the fence were impacted primarily.
Gaza Hamas leader Yahya Sinwar warned "Gaza is ready to explode in the face of the occupation". He spoke about breaking through the border fence and praying at al-Aqsa.
There are calls for an international investigation amid the death of Gazan correspondent Yasser Murtaja, who Gazans claim was shot dead by Israel while filming the cross-border violence. Israel denies intentionally targeting the well-known journalist, while admitting using live ammunition in several cases when attempts to breach the border fence were detected. Hamas claims Israel used the black smoke for cover, to eliminate Murtaja. Hamas accused Israel of violating the 2015 UN Security Council Resolution 2222, addressing the protection of journalists, demanding a probe into his death. Hamas political leader Ismail Haniyeh was among the Hamas dignitaries who participated in Murtaja's funeral in Gaza.
Defense Minister Avigdor Lieberman on motzei Shabbos, commented while attending Mimouna festivities in Ashdod. He stated we have seen Hamas use ambulances many times and has had terrorists dressed as journalists, stating "We won't take any chances. The IDF is the most moral army in the world and we are ready for 200 additional protests".
Lieberman added, "I don't know if he is a journalist or not but anyone operating drones over IDF troops should understand he endangers himself. There have been cases in which terrorists were disguised as journalists".
The senior minister also spoke of the world's hypocrisy, citing Hamas sends its fighters to the border fence and the world views this as a civilian parade while in Syria over the weekend, President al-Assad massacred 48 civilians including six women and eight children.
For the most part, Israel responded to the mass violence with rubber-coated bullets, teargas and water cannons.
In the interim, the United States for a second consecutive week blocked a UN Security Council statement supporting the rights of the Palestinians to protest peacefully and backing a call by Secretary-General Guterres for an independent probe into clashes along the Gaza fence.
B'chasdei Hashem, there are no reports of injuries to IDF forces.
(YWN Israel Desk – Jerusalem)