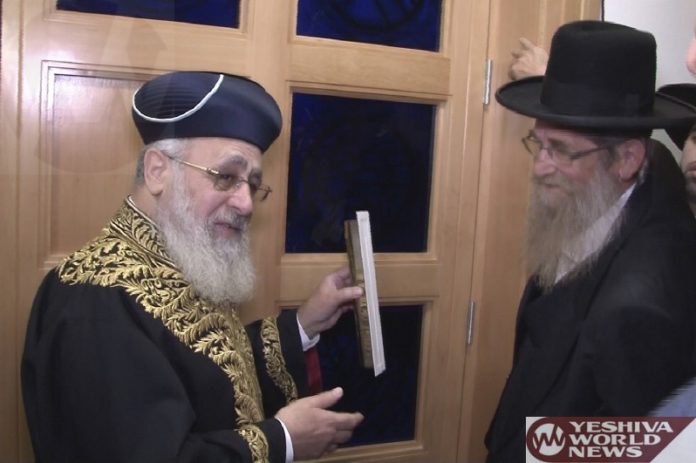 (PHOTOS IN EXTENDED ARTICLE)
In the presence of Rishon L'Tzion HaGaon HaRav Yitzchak Yosef, Chief Rabbi of Russia HaGaon Rav Berel Lazar and Rav Yisroel Solomon, the spiritual leader of Sheba Medical Center (Tel Hashomer), prominent businessman and philanthropist Lev Leviev donated a shul last week, at Sheba Medical Center, the largest hospital in Israel.
Leviev, along with his wife Olga, who have contributed to several major projects at Sheba, highlighted by the Leviev Heart Center, spearheaded the renovation of the synagogue along with several other families, who donated funds to create the one-of-a-kind architectural marvel. Artistic high-glass stained windows and a "hanging" Aron Kodesh made from glass in the shape of a Magen Dovid accentuate the shul's unique design.
Members of Sheba's executive staff, led by Director General, Professor Yitshak Kreiss, along with hundreds of community and rabbinical leaders alike reveled in the festive "Chanukas Habayis", marveling at the shul's eye-catching combination of modern design and traditional motif.
The shul, located in Sheba's main hospitalization tower, has been in continuous use daily, Shabbos and Yomtov usage for many years. But the sheer growth of the hospital (Sheba Medical Center currently treats 1.5 million people during the year), and the limited size of the original shul could not accommodate those patients who wished to heal their body and soul through the power of prayer.
The new shul is three times the size of the original and also features a Beis Medrash.
Mr. Leviev revealed, "This hospital is such a special place. I had seen people coming to the original shul, which did not have enough room to accommodate every patient, many of whom were attached to their infusion lines, crying during the prayers. It is my wish and hope that this new, larger shul will offer them a comfortable to daven for mercy from the Almighty and recover quickly from their illnesses."
Brimming with pride and excitement, Professor Yitshak Kreiss, Director General of Sheba Medical Center said, "It is important that we treat our patients in a human manner. This synagogue will inspire our patients and provide them with the spiritual strength to heal."
Rav Yitzchak Yosef, who affixed the mezuzah with Rav Solomon, fondly recalled how his late father, the legendary Sephardic sage, Rabbi Ovadia Yosef ZT"L, would make a habit of coming to the hospital and urge sick patients to eat on Yom Kippur, since it was "Pikuach nefesh."
(YWN Israel Desk – Jerusalem)