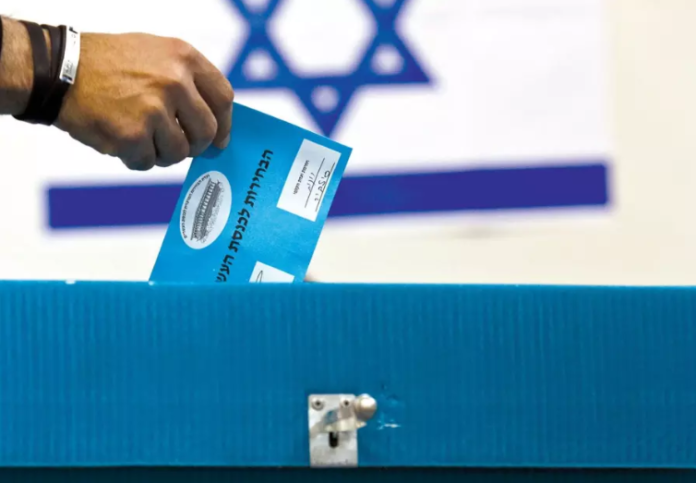 Shas & Degel Sign a Surplus Votes Agreement in Jerusalem Race
Degel Hatorah and Shas have signed a voter surplus agreement regarding the upcoming municipal elections in Yerushalayim. Degel officials report they turned to Agudas Yisrael officials a number of times last week, seeking to sign the agreement with Agudah to prevent the loss of votes but they did not receive a response. This led to the decision to close a deal with Shas instead.
Sunday, 12 Marcheshvan, is the last day such an agreement may be signed, compelling Degel to act, hoping to prevent wasting votes for chareidi candidates.
This means if there are excess votes from either party which together would earn another seat on the city council, that party can combine the votes. The votes will usually go to the party with more excess votes.
Agudas Yisrael Threatens Not to Back Gutterman in Modi'in Illit Election
The machlokes between Degel Hatorah and Agudas Yisrael seems to be intensifying as there is now a threat that Agudas Yisrael will not back Yaakov Gutterman's bid for reelection in Modi'in Illit if Degel Hatorah does not back Meir Rubinstein's bid for reelection in Betar Illit.
The latest machlokes stems from a weekend meeting of the Moetzas Gedolei Torah of Degel Hatorah and the rabbonim shlita discussed which candidates are being backed by the party, but no mention was made of supporting the reelection of the mayor of Betar Illit, Meir Rubinstein, who is identified with Shlomei Emunim.
Degel has not yet declared its support because Rubinstein refused to promise Degel Hatorah that it will receive the Planning & Construction portfolio, which it currently holds in the outgoing administration. This is a major part of the machlokes, which seems to have exacerbated the split between the factions in a number of venues ahead of Municipal Election Day, which is on 21 Marcheshvan.
This has spilled over to the Bnei Brak elections, and a letter from the Moetzas Gedolei Torah of Agudas Yisrael supporting the Degel candidate in the Bnei Brak mayoral race which was to have been published, is on hold for the time being, pending the outcome of the machlokes surrounding Betar Illit and Modi'in Illit.
Kikar Shabbos News adds that despite the fact Belze and Gerre are not connected to Betar Illit, they will abide by any decision made by the party, and for now; they are not backing Avraham Rubinstein's election bid in Bnei Brak.
A senior Degel Hatorah official is quoted telling Kikar News anonymously that "there are efforts to bring Bnei Brak into the machlokes between Shlomei Emunim (Agudas Yisrael) and Degel Hatorah. There is achdus in Bnei Brak and this is a fact, as [outgoing Agudas Yisrael affiliated Mayor] Chanoch Zeibert signed an agreement with Avraham Rubinstein alongside the heads of the different chassidic sects."
HaGaon HaRav Mazuz Backs Yossi Deutsch in Jerusalem Mayoral Race
Another boost to the efforts of Yossi Deutsch to become the next mayor of Jerusalem as HaGaon HaRav Meir Mazuz Shlita, Rosh Yeshivat Kisei Rachamim, has come out endorsing him.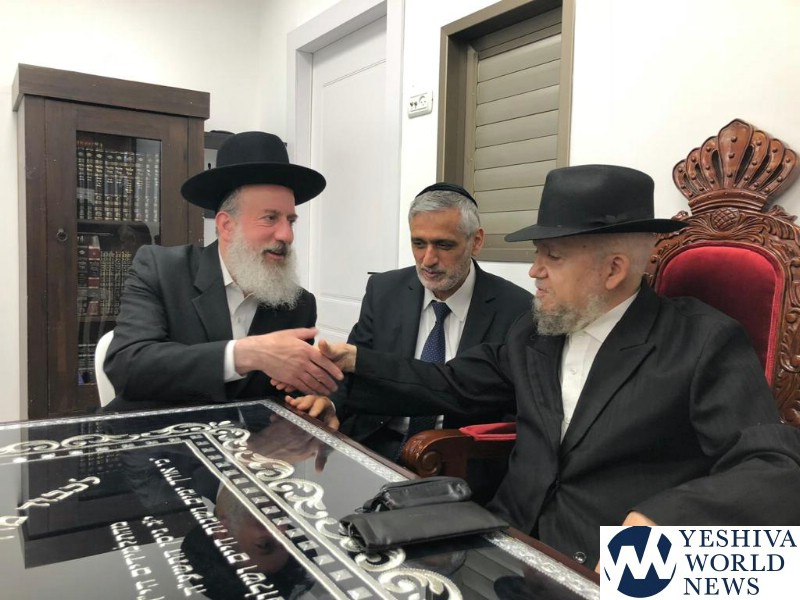 Deutsch visited with Rav Mazuz and received his bracha and support, a move that is likely to pull some votes from the Shas-endorsed candidate, Moshe Leon. Rav Mazuz explains that Deutsch has proven his record, and he is one whose door is open to assist everyone, without discriminating against chareidi, secular, sephardi, ashkenazi, Ethiopian and etc. "For him, everyone is the same" exclaimed Rav Mazuz.
Hence, Rav Mazuz is calling on the "tzibur shomrei mitzvos" to back Deutsch in his mayoral bid.
Another Blow to Degel in Elad, This Time from the Peleg Yerushalmi
A gathering of Elad residents was held in the home of HaGaon Av Beis Din Rav Tzvi Friedman Shlita, with the participation of HaGaon HaRav Deutsch, a leading Peleg Yerushalmi faction rav. During this gathering, they expressed their support for the reelection of Yisrael Porush, who is affiliated with Shlomei Emunim.
Rav Deutsch explained "one can speak with Yisrael Porush", and therefore, he feels Porush should be reelected in an effort to preserve the ruchniyus matters of the city. Rav Deutsch highlighted that despite criticism leveled against Porush, he is supporting his reelection bid, adding Porush has told him he is going to ask mechila from local rosh yeshiva, HaGaon HaRav Ettinger.
Rav Deutsch explained, "Yisrael Porush explained to me that he is sorry and is going to ask mechila from Rav Ettinger. He is sorry about the 'Police Day' that was held in Elad. He said 'Believe me or not, I visited the kever of by grandparents, Rav Menachem and Rav Moshe Porush on Har Menuchos, and I went to the kever of Rav Shmuel Auerbach ZT"L and asked mechila,' so after everything, we can speak with him and therefore, if we have a representative inside, there is no doubt he will have an influence".
Agudas Yisrael MKs: If it's Between Berkowitz & Leon in Round Two, We Will Back Berkowitz
MKs of Agudas Yisrael have signaled that if there is a second-round run-off election in Jerusalem between Moshe Leon and Ofer Berkowitz, they will vote for Berkowitz, Ladaat News reports. The MKs spoke with Ladaat.
When asked if they would actually support the secular candidate instead of a Shomer Shabbos candidate, the MK is quoted saying there is no problem, since they have voted for a secular candidate in the past.
Last week, the Gerre Rebbe Shlita called on his chassidim to back the chassidish candidate, Yossi Deutsch, as well as to work to persuade others to vote for him as well. However, according to the polls, he is not likely to receive enough votes to become Jerusalem's next mayor as Degel Hatorah and Shas are not supporting him, the only chareidi candidate in the race.
Degel Hatorah and Agudas Yisrael are split in Yerushalayim, Beit Shemesh and Elad, and instead of cooperating towards the election of one candidate, they are backing different candidates. In the Jerusalem race, Degel Hatorah is backing Moshe Leon together with Shas.
Agudas Yisrael Signs an Election Surplus Agreement with Eli Yishai's Party
Agudas Yisrael has signed a surplus election agreement in Yerushalayim on Sunday afternoon with the Meuchadim party headed by Aryeh King, a faction operating under the Yachad Party headed by Eli Yishai.
This is more significant that the Election Day agreement, but another sign of a bond that is being strengthened between Agudas Yisrael and the former head of the Shas party. The agreement follows years of tensions between Deputy Minister Yaakov Litzman and Yishai, which now appear to be a thing of the past.
The agreement was attacked by Councilman Eliezer Rotenberg, who heads Degel Hatorah in Yerushalayim. He attacked Agudas Yisrael, accusing them of sending letters and taking steps as if they truly seek peace, but in reality, it is clear, this is not the case.
Rotenberg however did not mention the fact Degel Hatorah in the Jerusalem race signed its surplus agreement earlier, with Shas, and not Agudas Yisrael. At that time, Rotenberg did say that he contacted Agudas Yisrael numerous times last week regarding such an agreement, and after not receiving a response, he proceeded to sign with Shas, as Sunday, 12 Marcheshvan, is the last day the agreements may be signed.
Municipal Election Day nationwide is on Tuesday, 21 Marcheshvan. It is declared a National Holiday this year for a first time, as the lawmakers hope this will significantly boost voter turnout.
Jerusalem Bus Driver Roi Ziv Backs Yossi Deutsch
Roi Ziv is an Egged bus driver for 18 years, a well-known personality to many as he heads the 'Roi and Friends' project in the city, dedicated to assisting persons with disabilities and others in need.
Roi explains that in the framework of his chessed operation, he has come in contact with mayoral candidate Yossi Deutsch, and he calls on others to vote for the chareidi candidate for mayor. He explains that the fact they he is not frum and that Deutsch is chareidi is meaningless, attesting to the fact that in his 12 years in City Hall, now serving as a deputy mayor, Deutsch has worked to assist all who knock on his door, regardless if they are religious or not, regardless if they are Jewish or not. He insists Deutsch is one who works to get things done, to assist all equaly.
(YWN Israel Desk – Jerusalem)