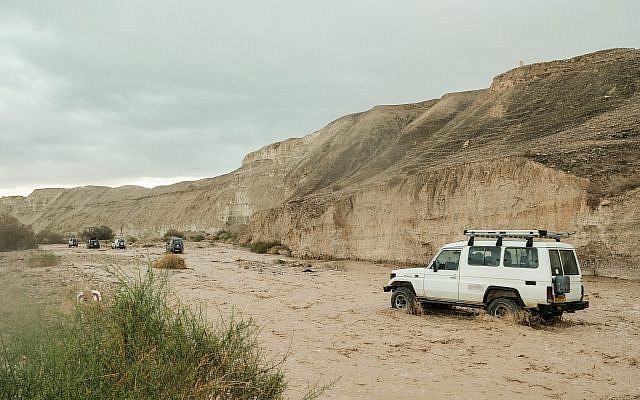 As Israel braces to receive its first thunderstorm of the season on Thursday, emergency services went on high alert and issued a series of protocols for the general public to adhere to should they find themselves in dangerous weather or emergency situations during the storm.
Forecasters are issuing thunderstorm warnings for the entire country that are set to begin on Thursday morning with a high risk of flash flooding in the Negev and coastal regions of the country. The flash flood warnings are highest for the Dead Sea and Arava regions but extend as far south as Eilat. Meteorologists have said that many of the coastal cities should be prepared for flooding as well due to the heavy rainfall that is expected tomorrow. Some meteorologists have even predicted that certain areas of the country will see hail.
The first rains, known as the Yoreh in Israel, began to trickle down during the evening and night on Monday. Some parts of the country experienced a trickle, while others got a quick soak. Both will pale in comparison to what forecasters are saying will hit the country on Thursday.
In addition to rain, strong storm winds are expected to pummel the country with some areas experiencing winds up to 100 kmph (60 mph). Rescue services are warning the public that tree branches are expected to fall and some trees may even be uprooted.
Israel's Fire and Rescue Department commanders held a special situation briefing to discuss how to best cope with the expectant storm. All units were asked to check their equipment and make sure that everything was in working order, with a special focus being on rescue and evacuation equipment. Firefighting teams were pulled from low-risk areas and sent to areas that are expected to receive high amounts of rainfall or suffer from flash-flooding.
The volunteers who serve on the Megilot Search & Rescue Unit in the Shai District of Israel Police were busy Wednesday preparing. If the predictions are correct, there will be flooding in the nachals in the Judean Desert, and this situation usually leads to calls for assistance, especially since it is unseasonably warm and many hikers are likely to playdown the predicated storm until they find themselves trapped in a situation that demands professional assistance.
The unit is preparing its 4 X 4 vehicles, drivers and rescue personnel, who will be on standby to respond to any emergency call for assistance.
Forecasters are predicting scattered thundershowers on Thursday morning and showers during the afternoon hours for Jerusalem and the surrounding areas. There will be wind gusts up to 100 KPH. The forecast adds 13mm of rainfall is expected in the morning hours and an additional 5mm during the afternoon hours in what may be the first rainstorm of 5779.
Police warned the public to expect road closures in various areas of the country due to flash-flooding. Should the need arise, traffic police will be sent to strategic intersections to direct traffic away from problematic areas. "The first rains are characterized by oils from the road rising to the surface and creating incredibly slippery conditions," a police spokesperson told Israeli media. "Drivers of all types of vehicles need to be wary of these conditions."
Security Services Issued the Following Warnings Ahead of the Storm:
Please refrain from traveling on Highways that are known to have flashfloods.
Adjust your speed to the weather conditions around you.
Check that all lights work on your vehicles before you set out to drive in the storm.
Remeber to turn on your lights in any type of low visibility.
Don't stop suddenly and keep your distance from other vehicles.
It is prohibited to stop on the shoulder and in any other spaces that are not designated stopping areas.
Do not cross rivulets or streams of water that are on the roadways with your vehicle.
Do not head into large puddles or swampy areas that are likely to drag your vehicle away from the road.
Strengthen and tighter hot water heaters and other items that may fall off of roofs or balconies in high winds.
It is reported that the storm will bring warmer rain rather than cold, as is the case in the winter in Israel, since it is still autumn, and meteorologists explain that this too will have an impact on the overall weather, which is expected to drop over 20 degrees Fahrenheit from early Thursday morning until Friday. Forecasters are being cautious but warn the storm could be far more severe than anticipated and persons are instructed to tie down anything that can fly in high wind gusts and to call police, Israel Electric Company, and other services if the need arises.
We daven the rainfall should bring badly-needed water to those areas of Eretz Yisrael and be a bracha for all, not chas v'sholom a klala.
(YWN Israel Desk – Jerusalem)