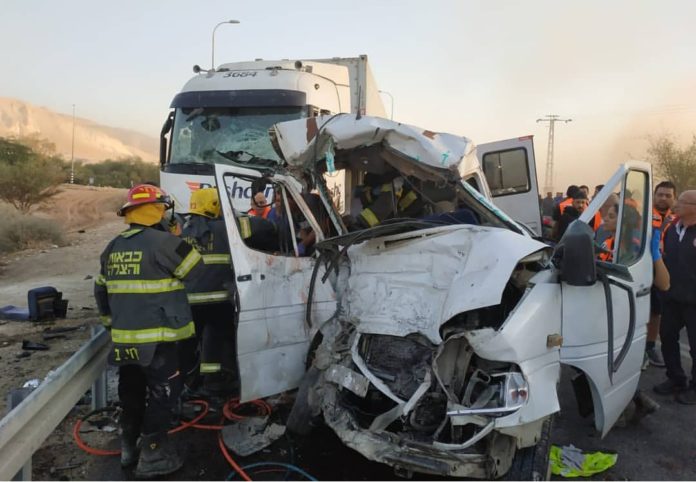 (VIDEOS AND PHOTOS IN EXTENDED ARTICLE)
Once again, the twisting Jordan Valley Road, Route 90, officially known as the Rechavam Ze'evi Highway, has claimed lives. Six PA Arab residents were killed early Sunday morning in the latest fatal accident on the road, near Petzael.
MDA reports the call for the accident involving a truck and a minibus arrived at 5:34AM and EMTs and paramedics responded. The first units to arrive on the scene explain the minibus transporting the Palestinians sustained serious frontend damage from the truck.
After extricating victims and triaging and treating them, it was determined that six Palestinians were killed, all inside the minibus.
Others were injured and transported to the trauma unit of Hadassah Ein Kerem Hospital in Jerusalem.
Hadassah spokesperson Hadar Elboim reported three victims arrived in the trauma center, a 17-year-old male in light condition, a 31-year-old male in light condition, and a 50-year-old male in moderate condition.
One victim arrived in critical condition with serious head injuries, intubated and paramedics were assisting his respirations. After being treated in the trauma unit he was taken to an ICU.
Just last week, the Attar family from Psagot was killed in a head-on condition on the same road. The entire family was R"L burned alive in the crash, parents in their 40s and their six children.
The latest accident brings the death toll on the road in the past days to 17!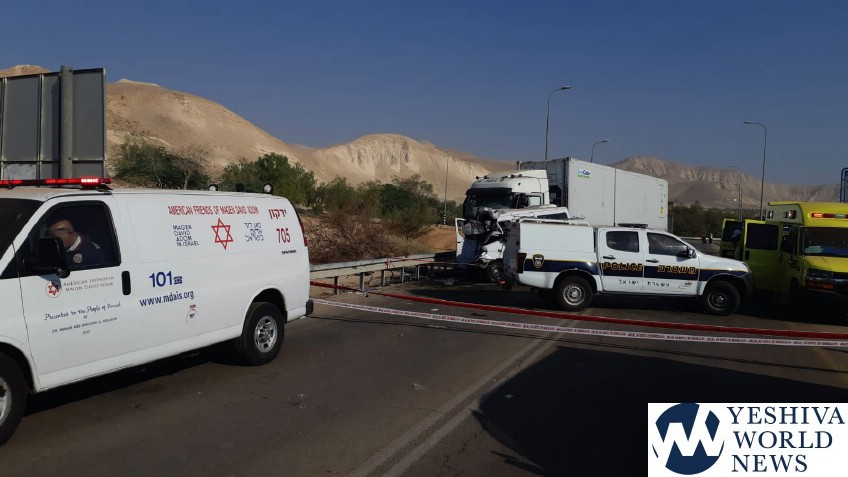 (YWN Israel Desk – Jerusalem)