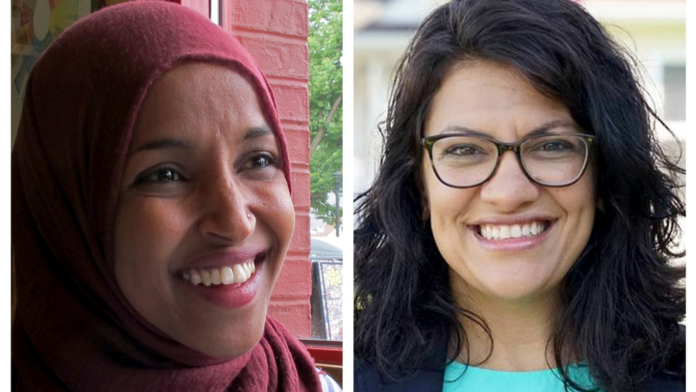 (VIDEO IN EXTENDED ARTICLE) 
A pair of districts in the Midwest will add Muslim women to the ranks of the US Congress for the first time, CNN has projected.
Michigan Democrat Rashida Tlaib and Ilhan Omar, the Minnesota Democratic-Farmer-Labor Party's nominee, will secure their respective seats in strongly Democratic districts following primary victories earlier this year that effectively decided their races.
Omar, in addition to being one of the first Muslim women in Congress, will also be the first Somali-American member. She came to the US more than two decades ago as a refugee. "I myself would have been part of the travel ban," Omar said on the campaign trail.
In 2012, Omar tweeted Israel had "hypnotized the world" to ignore its "evil doings." Defending that tweet earlier this year, she said on the same platform that calling attention to the "Israeli Apartheid regime" was not anti-Semitic.
Drawing attention to the apartheid Israeli regime is far from hating Jews. You are a hateful sad man, I pray to Allah you get the help you need and find happiness. https://t.co/SvEXjlxlEN

— Ilhan Omar (@IlhanMN) May 31, 2018
Tlaib is the daughter of Palestinian immigrants and became the first Muslim female member of Michigan's state legislature a decade ago. She was seen at her victory party wrapped in a Palestinian flag.
A self-styled progressive, Tlaib is a vocal critic of President Donald Trump and was arrested two years ago for disrupting a Trump speech in Detroit.
Asked during an interview with Great Britain's Channel 4 News whether she would vote against military aid to Israel when she goes to Congress, Tlaib said "absolutely."
"U.S. aid should be leverage," she said. "If you're going to be a country that discriminates on somebody solely based on their faith, solely based on their skin color … to me, that doesn't fit our value of our country."
Tlaib actually campaigned with Omar ahead of the latter's primary race earlier this year.
Both were endorsed by the Democratic Socialists of America, a burgeoning left-wing group that also counts New York Democratic congressional nominee Alexandria Ocasio-Cortez among its members.
Only two other Muslims have been elected to Congress, and both are men currently in office: Ellison and Indiana Democratic Rep. Andre Carson.
(Nat Golden – YWN)