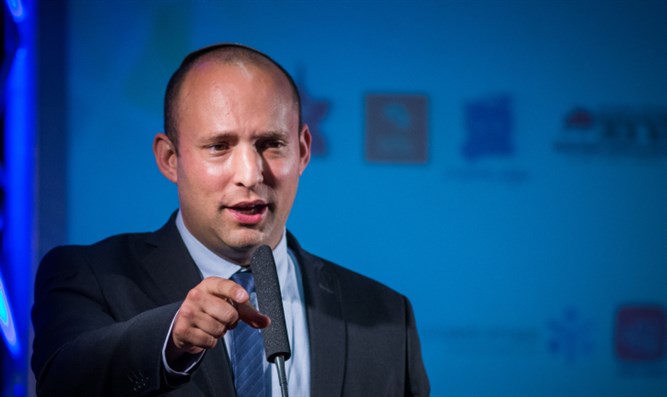 The political turmoil left in the wake of Defense Minister Avigdor Lieberman's resignation and withdrawal from the government is far from over. Following  Lieberman's resignation, the head of the Bayit Yehudi faction and Education Minister Naftali Bennett has submitted an ultimatum on behalf of his party to Prime Minister Netanyahu that demands that he receive the now vacant defense portfolio, or he will also back out of the coalition and thus force early elections.
According to a source within the party that was quoted in Israeli media, the Bayit HaYehudi faction is demanding the portfolio in an effort to change the policy of the  defense establishment and to return a sense of deterrence to Israel's military.
"A government without any sense of deterrence, is not a right-wing government. Without taking responsibility for the national mission of ensuring the security of our citizens together with the Prime Minister, there is no reason for this government to continue."
Netanyahu is now being forced into a position where he either gives his political rival the Defense portfolio, or he calls for early elections sometime in the early spring.
With this in mind, Netanyahu spoke with all of his current coalition partners, Aryeh Deri, Bennett, Moshe Kahlon and Moshe Gafni, in an effort to solidify the coalition in the face of such challenges laws awaiting the government such as the Conscription law.
(YWN Israel Desk – Jerusalem)