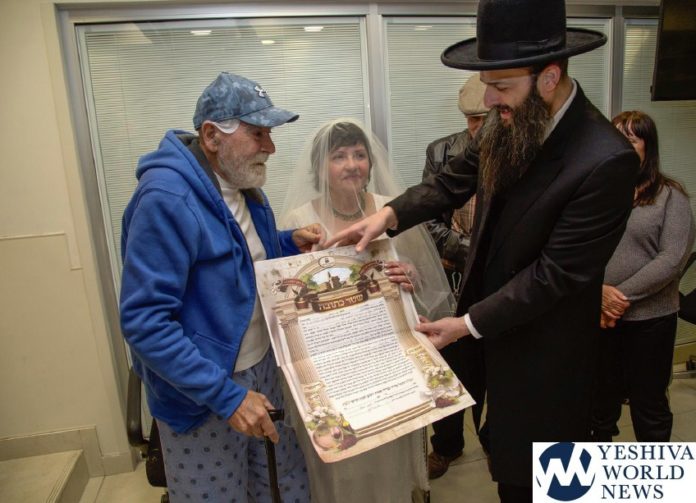 (VIDEO IN EXTENDED ARTICLE)
Miriam and Michael Lasri were married 43 years ago. The two, immigrants from Morocco, built their lives and have four children and grandchildren. After 28 years, Miriam decided to be 'freed' and demanded a get, asking Michael for the bill of divorce. She explained that she wanted to live where and as she wishes, to be released from her responsibilities and limitations. She explained "Life was not good for me and finally, I got the strength together to demand the get. After the divorce, I got up in the middle of the night and looked at the get to be certain it was real, that it really happened".
The two have been divorced for almost 13 years and during that time period, they barely exchanged a word. However, of late, Michael became ill. Doctors diagnosed a cancerous growth in his head, probably the consequences of treating ringworm that he received upon his immigration to Israel during the establishment of the state. Since then, he has been undergoing operations on his head to remove the tumor that has returned anew several times, and he had another major surgery scheduled for this week.
A few weeks ago, Miriam heard the news of Michael's illness from their children. She immediately broke and pushed aside the years of silence and called him up: "No matter what we've gone through, you're the father of my children and I'm here for you," she told him.
Michael, already physically tired of the harsh treatments, was shocked to hear what she was saying. She immediately arrived in his room in the ward and began to care for him, like the man she loved many years ago.
He remains in the oncology ward of Ichilov Hospital in Tel Aviv, having undergone another complicated surgery. Miriam agreed to his request to remarry him. "He told me that he will not agree to the operation if I do not marry him. How can I deny a sick man such a wish? He asked for mechila and I have forgiven him. I wiped out the past and now, we look at what will be", she explained.
Despite his condition, and even though she knows she will bring home a sick person to whom she was no longer committed, she chose to dedicate her life to him. "There's no bigger sacrifice than this, and I know why I'm coming back. My heart and conscience do not allow me any other option. In the end, after all, he is the man of my life."
The excited family members arrived in the hospital conference room that became a wedding hall, happy and excited for the future. They were accompanied by the medical and nursing staff, especially Dr. Racheli Grossman, the deputy director of the department and the treating physician of Michael, and Yossi, the deputy head nurse of the department, who also served as a marriage witness.
Mazal tov to Miriam and Michael.
(YWN Israel Desk – Jerusalem)