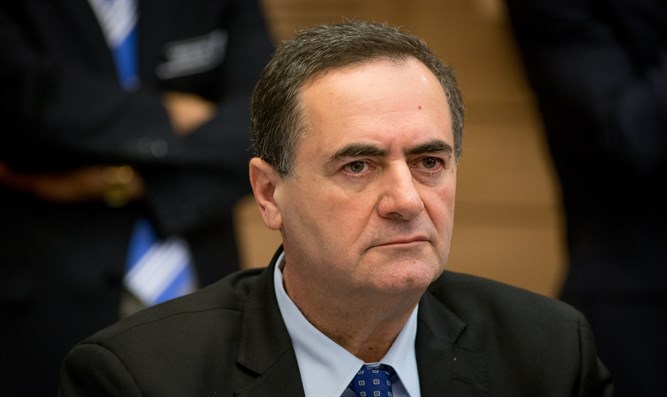 Yisrael Katz has become Acting Israel's Minister of Foreign Affairs, replacing PM Netanyahu as Israel's foreign minister.
"I am grateful to the Prime Minister for the trust, and I am pleased to head the Ministry, and together with the Prime Minister, we will continue to promote and lead the State of Israel's foreign policy to further achievements", Katz told the press.
The Foreign Ministry welcomed Minister Yisrael Katz on his inauguration. Yuval Rotem, Director-General of the Ministry, said: "This is a festive moment in which the Foreign Ministry congratulates Minister Katz on taking office.
"We are confident that the minister will lead us to further achievements in foreign policy. The entire ministry is at the minister's disposal and wishes him success in his position."
PM Netanyahu announced today that Minister Katz will be appointed Minister of Foreign Affairs and currently holds three portfolios: Transportation, Intelligence, and now Foreign Affairs.
Last week, Netanyahu promised to appoint a foreign minister to his government, a portfolio he has held for the last four years. Cabinet Secretary Tzachi Braverman sent a signed letter to the High Court of Justice in which he made an affidavit on behalf of the government and the prime minister of a commitment to appoint a deputy foreign minister following the number of files held by Netanyahu for a long time. Netanyahu was responding to a Movement for Quality Government petition to the court, challenging his holding too many cabinet portfolios.
Since Netanyahu's announcement of a foreign minister's appointment, the assessments in the political establishment regarding the identity of the new foreign minister have ranged around two options: Minister Yuval Steinitz, a close associate of Netanyahu, who serves as energy minister, and Minister Yisrael Katz. On Sunday morning, as stated, Netanyahu announced the appointment of the second to the prestigious office.
Recently, Netanyahu appointed Yoav Galant as Minister of Immigrant Absorption, and Yifat Shasha-Biton was appointed Minister of Housing. Netanyahu now has two additional portfolios: Health and Defense.
(YWN Israel Desk – Jerusalem)