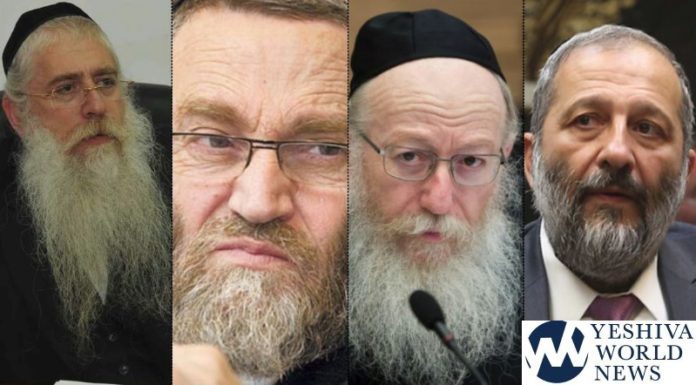 The chareidi parties, Shas and Yahadut Hatorah, both having expressed their loyalty to Prime Minister Binyamin Netanyahu to form the next coalition government, are now hearing unwanted rumors. According to reports on Israel Radio, based on credible rumors, Netanyahu has been talking with Benny Gantz, chairman of the Blue and White party, and Avigdor Lieberman, who chairs the Yisrael Beitenu party.
The report states this will permit Netanyahu to establish a coalition of about 74 seats, depending on final election outcome, and not have to deal with the chareidim. The report cites much fear surrounds the new draft law, as Lieberman, who may have just been politically posturing, insists he will not tolerate changes to the current draft version of the law, and Yair Lapid of the Blue and White party has echoed this.
There is no official word regarding these rumors, but Mr. Netanyahu has publicly announced he will form a coalition with his 'natural partner' and it remains to be determined if this partner is the chareidim as believed or the Blue and White party. In addition, Lieberman remains abroad, having left after elections, and persons close to him insist he has not been in touch with the prime minister.
The heads of the parties are scheduled to begin meeting with President Reuven on Monday, April 15 at which time each party representative will suggest who they think should receive the presidential mandate to form the next government. Both Shas and Yahadut Hatorah have signaled they will be recommending PM Netanyahu.
Lieberman is also reportedly opposed to sitting in a national unity coalition that would include the left-wing Meretz party. Both he and Lapid oppose sitting with the chareidim as well, while the chareidim have been careful to only declare Lapid persona non-grata and not Lieberman, realizing he will probably be needed to form a coalition with them.
(YWN Israel Desk – Jerusalem)