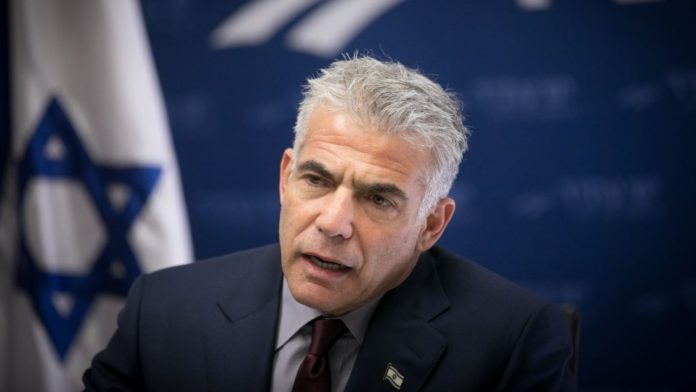 Once again, MK Yair Lapid has spoken out, inciting against the chareidi population. MK Betzalel Smotrich calls it a "bunch of lies" and demands and apology.
Reports were released on Tuesday morning that Likud has suggested a fix to accommodate the chareidi parties regarding their objections to the current version of the draft law. This led to Yair Lapid, who heads the Yesh Atid faction of the Blue and White party, to release statements once again attacking the chareidi tzibur.
Likud simply wants to pass the bill along in its earlier readings in its current state but is leaving a door open to amend it later on. This however has yet to be approved by MK Avigdor Lieberman, who chairs the Yisrael Beitenu party, as Lieberman vowed not to enter a coalition if the current draft law, which was approved by the IDF, is amended in the slightest.
Lapid added, "If you're called Moshe and you're an eighty-year-old grandfather who fought in all the wars in Israel, you'll get a stipend of NIS 4,232. If you're called Moshe, and you're a 19-year-old yeshiva student who dodged an army draft, you'll receive a stipend of NIS 7,800".
סמוטריץ׳, ערב יום הזכרון אני מציע שתגן על אלה שמתגייסים לצה״ל לא על אלה שאתה עוזר להם להשתמט מגיוס. מעבר לזה, אני לא מקבל ממך הוראות, אבל אתה יכול תמיד להמשיך לחלק הוראות לראש הממשלה שאותו אתה סוחט בתמורה לחסינות מהכלא. https://t.co/jtSr3itvUm

— יאיר לפיד Yair Lapid (@yairlapid) May 7, 2019
He added, "The exit ticket from prison for Netanyahu also includes the sale of the basic values of the people's army. If Bibi's deal with the chareidi parties will pass, anyone with a child who needs to join the army knows that some of their children do not have to enlist because Bibi needs immunity from Litzman and Deri. Lieberman, did not you promise not to change any letter in the draft law? "
כרטיס היציאה מהכלא של נתניהו כולל גם את מכירתם של ערכי היסוד של צבא העם. אם הקומבינה של ביבי עם המפלגות החרדיות תעבור, כל מי שיש לו ילד שצריך להתגייס לצבא, ידע שיש כאלה שהילדים שלהם לא צריכים להתגייס כי ביבי צריך חסינות מליצמן ודרעי. ליברמן, לא התחייבת שלא תשנה אף אות בחוק הגיוס?

— יאיר לפיד Yair Lapid (@yairlapid) May 7, 2019
Once again, MK (United Right-Wing) Betzalel Smotrich came to the defense of the chareidim against Lapid, stating, "On the eve of Memorial Day Yair Lapid opts to lie towards inciting against the chareidim tzibur and lomdei torah and cause a rift between us. He said on the radio that an avreich receives NIS 7,800 monthly!! A blatant lie. An imaginary number that has nothing to do with reality. As Jews, we have suffered enough from those who plotted money-related plots against us. Yair, apologize!"
(YWN Israel Desk – Jerusalem)