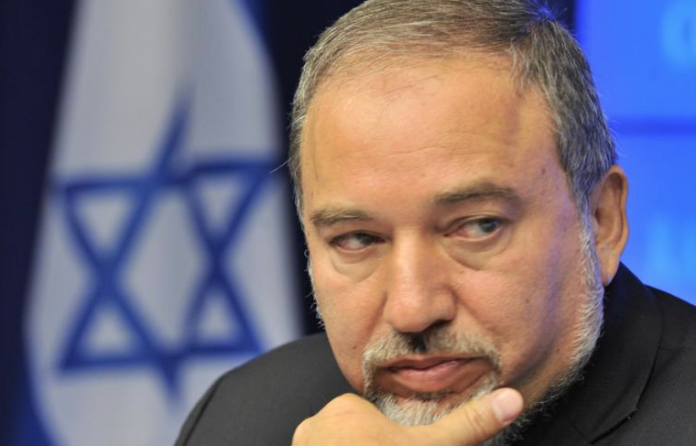 Time is running out for Prime Minister Netanyahu, who is working to assemble a coalition government. One of the major stumbling blocks is the chairman of the Yisrael Beitenu party, MK Avigdor Lieberman, who during the previous administration resigned his post as Defense Minister, telling the media that he would no longer tolerate PM Netanyahu's policies vis-à-vis Hamas in Gaza.
Immediately following Knesset elections, Lieberman gathered his faction members for a 'l'chaim', stating emphatically that he will not compromise his demands, even at the expense of going to elections again. He was referring primarily to the draft law, insisting he will not permit the chareidi parties to make any changes. The draft version of the recruitment law was approved by him while serving as Defense Minister.
At that l'chaim with faction members, he added that he will not sign a coalition agreement until he has had an opportunity to read the agreement signed by chareidi parties for he wants to see what has been included regarding the future of the Kosel and an egalitarian prayer area, as well as other matters including work that is performed on Shabbos by Israel Railways for example, and other matters which he insists are unacceptable, accusing the chareidi parties of trying to turn the State of Israel into a 'halachic state'.
While negotiations were taking place in recent weeks, Lieberman reiterated in the media that the three main areas of concern for his party are; aliyah & absorption, religion & state and security; areas in which he insists there cannot and will not be compromise.
However, now, with intensive negotiations taking place, it appears Lieberman is speaking less in the media regarding Shabbos, religion & state and the future arrangement at the Kosel, as well as giyur, and many believe that this implies that in fact, he is going to make some concessions amid the realization going to new elections holds great risk for his party, which may not cross the minimum threshold required to enter Knesset the next time around. At present, Yisrael Beitenu has five seats. The minimum threshold in the last elections was four seats.
When the Knesset members took their oaths of office recently, Lieberman then commented to the media that he and PM Netanyahu have reached an "understanding" regarding matters of religion & state, a first sign that compromise is imminent for he does not want to find himself in the benches of the opposition, preferring to once again serve as Israel's Minister of Defense. However, Lieberman continues to attack the chareidi tzibur in the media, yet he is not making the same ultimatums heard in the past.
At present, Lieberman is still far from seeing eye-to-eye with the chareidi parties, which is an unlikely scenario, but his list of demands has decreased significantly, now concentrating on the draft law and not speaking about the Kosel and Shabbos, clearly aware that with about only a week remaining until the mandated period to form a coalition expires, he must stop grandstanding and get down to the matters at hand, reaching agreement and signing coalition agreements to form the next government.
(YWN Israel Desk – Jerusalem)