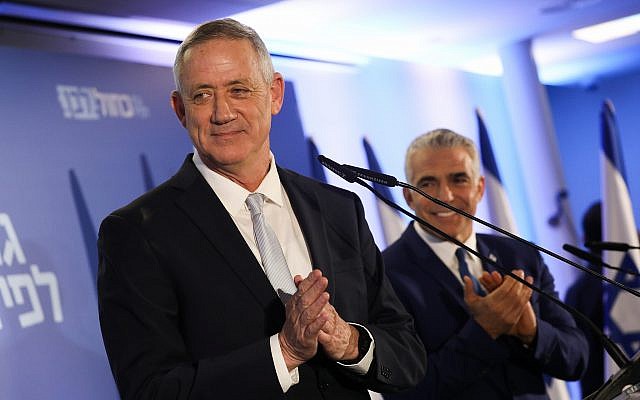 The new Blue & White election campaign has succeeded in eliciting the ire of the chareidi politicians. The new campaign, released on Sunday, represents "a new level of anti-Semitism" according to Yahadut Hatorah Deputy Health Minister Yaakov Litzman.
Litzman calls on the party leader, MK Benny Gantz, to shun the campaign as well as MK Yair Lapid, number two on his list.
The new campaign shows a fake WhatsApp group run by Prime Minister Binyamin Netanyahu called "The natural partners – final" and it includes the heads of the expected coalition partners of Mr. Netanyahu. Shas leader Aryeh Deri and Yahadut Hatorah's Deputy Minister Yaakov Litzman are presented sending messages trying to extort enormous funds from the government coffers.
The video is a mock WhatsApp conversation, in which Netanyahu signs a commitment for addition money for Deri, NIS 1 trillion, with Litzman responding, "I want all the money that Israel has".
פאניקה בבלפור pic.twitter.com/o5mfk1rPXR

— יאיר לפיד Yair Lapid (@yairlapid) August 4, 2019
Many journalists were horrified by the incitement by Lapid, for if the same was written about other minorities other than the chareidim, such as Arabs or Ethiopians, there would have been a huge storm. However, party chairman, MK Benny Gantz, remains silent amid the severe incitement by his party's campaign.
Shas Chairman Minister Aryeh Deri tweeted "It is anti-Semitism. There is no other name for it". Similar comments were heard by Litzman, who has placed Lapid in cherem years ago, the first to announce he would not sit in any coalition government with Lapid as a member.
Litzman called on Gantz to oust Lapid, sending a clear message that without Lapid, the chareidim are willing to talk with the Blue & White party about future cooperation, but for as long as Lapid remains, the party remains muktzah for all the chareidi parties.
"Lapid, who grew up spoiled, continues to rake in public capital as a bank in a bank and a broadcaster at news studios, and his hands did not shake when he represented the children of Israel as the failed finance minister, until we were able to get rid of him after two years, thus saving the economy from a possible collapse".
"When I shook off my clothing from the Knesset podium after Lapid touched me, some said it was excessive. Today, everyone understand that Lapid remains the same Lapid who is all about spreading the poison of hatred as he wanders among the various populations and sectors."
Litzman does not leave this between the chareidim and Lapid and turns his criticism against the Blue & White party chairman, Benny Gantz. "Mr. Benny Gantz, as long as you do not publicly shake off this blatant incitement campaign, you are a full and direct partner to the hate crime committed against an entire sector in Israel that is struggling for its rights and needs, and is true to its values and principles."
Moshe Ya'alon, the number three man on the Blue & White list responded to Lapid's campaign stating, "It's not my style".
(YWN Israel Desk – Jerusalem)