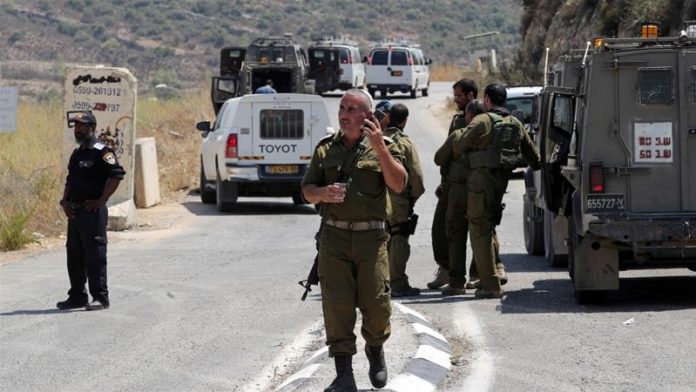 Over the course of Shabbos the condition of Dvir Shinrav, the 19-year-old boy injured in Friday's terror attack near Dolev, improved. A spokesperson from Hadassah Ein Kerem hospital where Dvir underwent emergency surgery on Friday said that Dvir is now fully conscious and is stable. He is listed as being in moderate condition. The condition of Eitan Shinrav, Dvir and Rena's father, has also improved the spokesperson said.
Security forces are still searching for the terrorists who committed the attack and have been questioning residents of the surrounding villages as part of their investigation.
Syrian media is reporting an airstrike and claiming that the Israeli Air Force has attacked numerous targets near the capital of Damascus. The media reports said that Syrian anti-aircraft batteries opened fire on numerous enemy targets. Some of the reports have stated that there were Syrian fatalities and injuries as a result of the attack.
Terrorists from the Gaza Strip rioted once again along the border fence with Israel. According to reports in the Israeli media, the rioters threw no less than 100 improvised explosive devices at Israeli security forces. Rioters also attempted to breach the fence and caused extensive damage in certain areas. Security forces responded with live fire and riot dispersing ammunition and 50 injuries were reported by the rioters. Balloon bombs were also launched at Israel as part of the riots.
In spite of the riots and attempts to break through the fence, Israel will allow the Qatari emissary to distribute funds to needy families in Gaza beginning tomorrow.
A 40-year-old woman was in critical condition after drowning at the Bow Beach in Ashdod.
A Chinese worker died after he fell into the water while working in the Ashdod port on Shabbos. He was pulled from the water without any life signs and following a resuscitation attempt was declared dead at the scene.
A 34-year-old man was seriously injured after a piece of flooring fell on him at a factory near Rosh Ha'Ayin. The factory was closed for Shabbos and police are investigating the incident.
A 46-year-old motorcyclist was killed after his motorcycle slipped on Highway 3866 between Machasiya and Nes Harim. Rescue teams who responded to the emergency pronounced the man's death at the scene.
A 66-year-old man collapsed and drowned in a hotel pool in Jerusalem. He was pulled from the water and transported to the hospital in critical condition.
A car accident involving two private vehicles took place on Saturday night near the entrance to Kadita that resulted in 11 people being injured.
United Hatzalah volunteer EMT Shmuel Sa'adon reported from the scene: "We treated a 50-year-old man who was seriously injured and who was rescued from his vehicle by the Fire Department. We also treated a 40-year-old man who was moderately injured and 9 other people who lightly injured in the accident that occurred tonight. All of the people injured were transferred to the hospital for further care."
(YWN Israel Desk – Jerusalem)