(PHOTOS IN EXTENDED ARTICLE)
Thousands of supporters of Israel participated in the "People's March" in Jerusalem on Tuesday, Rosh Chodesh Sivan, to mark Israel's 70th International Independence Day.
The parade was held in memory of the Holocaust, anti-Semitism and the glory of the State of Israel. Some 3,000 supporters of Israel from 40 countries around the world came to Israel to participate in the World Parade. The parade is held by March of Life, an organization of descendants of the Nazis who wish to commemorate the Holocaust and fight anti-Semitism, and the organization wrapped up some 50 marches held in dozens of countries in recent weeks, all in support of Israel.
The founder of March of Life, Jovast Bitner: "We established the organization to commemorate the Holocaust, fight anti-Semitism and support Israel, despite the tense security situation, our members come from all over the world to stand by you. And this is our fight against anti-Semitism."
Feller Hassan-Nachum, chairman of the Yerushalmim faction, accompanied the initiative over the past year, and it was the one that connected the heads of the organization and the Jerusalem municipality in order to turn the parade into an urban event.
Hassan-Nachum: "I accompanied the initiative for over a year, and from the very first moment I understood that it must be transformed into something urban, and for the first time, pro-Israel Christians participated as a group in the traditional celebrations of Jerusalem Day.
"Over the past year, I have worked with all the relevant authorities in the municipality so that the Jerusalem Municipality will take a more significant part in the project for Israel's 70th Independence Day and Jerusalem Day celebrations. To my delight, the mayor responded, and this year a particularly impressive event was held, with thousands of participants and in full cooperation with the municipality.
"Jerusalem is important not only to the residents of Israel and the Jewish people – it is a symbol and a magnet for thousands of Christian supporters of Israel around the world. This initiative is particularly exciting, because beyond the assumption of responsibility, there is a genuine desire here and a correction. I see the march of nations as a symbol of the triumph of the human spirit, the triumph of hope and tolerance for the evil and destruction that the Nazis have sown throughout Europe. Such basic messages of love, peace and honor are what make Jerusalem the special city that is a city that manages to connect and heal", Hassan-Nachum concluded.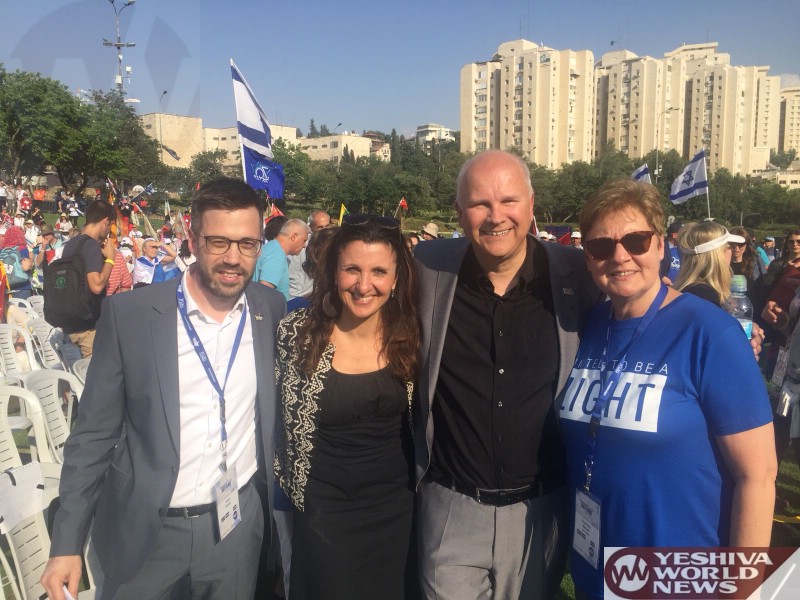 (YWN Israel Desk – Jerusalem)